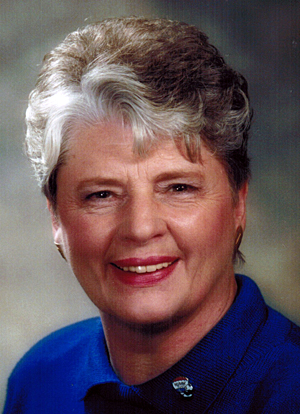 After a long illness Barbara Doria Russell Humphreys, nee Denison, died at the Queen Victoria Hospital in Revelstoke with her family at her side on July 12, 2012.
She is survived by her sister, Nora Stewart of Vernon; her children: Greg & Leah (Vernon), Carole & Oscar (Revelstoke), Garth & Margo (Summerland) and Lee & Ornella (Revelstoke); her grandchildren: Ben & Anne, Cara & Mark, Jesse & Erin, Caitlin & Neil and Sophia; her great grandchildren: Tanner, Tuula, Marley and Cale and; her beloved nieces and nephews.
Born in Vernon on October 11, 1927,, Barb studied nursing in Kamloops, married and moved to Revelstoke where she raised her 4 children and was "adopted mother" to Bev. Never one to sit back, Barb always volunteered her time and many talents to the community from Hospital Auxiliary to president of the BC Lung Association. She was hardworking, full of energy, compassionate and willing to stand up for what she believed was right.
Barbara made lasting friends wherever she went, the list of younger women who called her their adopted mom is long as is the list of people who called her friend. She loved to golf, play bridge, crib & mahjong. She made us laugh right to the end and we will forever miss her.
The family would like to thank Dr. Neil Leslie and the staff at Queen Victoria Hospital in Revelstoke with a special thanks to the angels in Palliative Care, we so appreciated the many kindnesses shown to mom. Thanks also to Dr. Bannerman and the staff at Penticton Regional Hospital with special thanks to the nurses and physiotherapists in the Rehab Department.
A memorial gathering will be held at the Summerland Funeral Home on July 25th at 2 pm in Summerland. In lieu of flowers donations can be made in Barbara's memory to the BC Lung Association www.bc.lung.ca