By David F. Rooney
The first photos of the sink hole that ate Airport Way on June 22 didn't look like much — just a smallish hole in the pavement. But from tiny holes mighty sinkhole do form. And this one was no exception.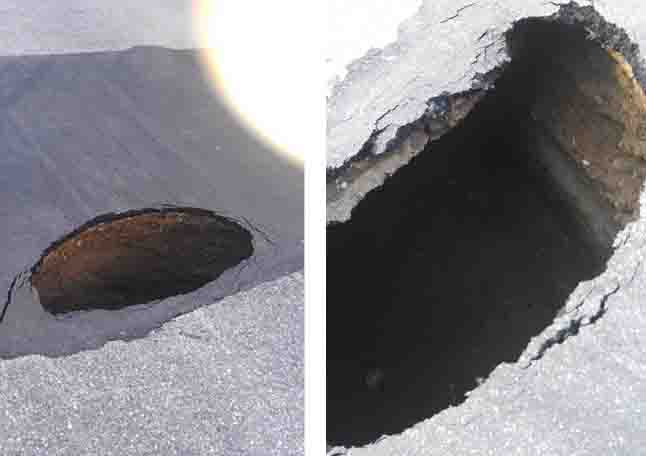 The sink hole was formed by running water that emerged from a crack in the original culvert that run beneath Airport Way past the base of Red Devil Hill at the curve just before Williamsons Lake.
Apparently the many tons of earth and rock that covered the culvert had shifted sometime in the past, cracking the culvert and allowing water to flow outside the culvert. Gradually that running water eroded the earth away, leaving behind a cavity that grew and grew until it surfaced through the pavement.
Darren Komonosk, operations manager for the Engineering and Public Works Department has told Council that it's going to cost about $100,000 to finish work on the sinkhole. That was an unexpected cost that will have an impact on the department's budget, meaning there will be less money for some other projects.
A new culvert has been installed but the backfilling operation is slowed by the fact that the only earth packer the City has access to right now is a small one. The City is also not spending bags of cash on overtime to finish this so judging by the work that still remains it may be sometime after July 17 or 18 before Airport Way is re-opened.
But — Hey! — you can look at these pictures and judge for yourself: