Advertising Feature 
By David F. Rooney
Keeping pace with the city's transition to a tourism economy is a challenge and few businesspeople know that better than Elmer and Liz
Rorstad. After all, their shop, Free Spirit Sports, has been catering to snowboarders, skiers and other outdoor enthusiasts for 20 years.
In fact, their recently renovated shop at 203 First Street West is celebrating its 20th anniversary this month. They're also marking this milestone with a photo contest open to all amateur photographers (see below).
Twenty years is a long time and over the years the business has seen interesting shifts in the number and kind of visitors to town.
December has always been the big month but recently winter has become the bigger season for sporting goods sales. That comes as no surprise now that Revelstoke Mountain Resort has been open for five years and attracting thousands of skiers from across North America and Europe. But it hasn't always been so. Just six or seven years ago more people came here in summer.
There are still lots of visitors here from abroad in the summer, especially from Europe but the community faces stiff competition from other tourism-oriented towns such as Golden and Invermere, Vernon and Kelowna.
Fending off out-of-town competition is important to the Rorstads. They're concerned for their business, of course, but they also believe that their own success is linked to the prosperity of the larger community. And they hope fresh thinking can help ensure economic progress here isn't stalled.
"We need to work on our shoulder seasons and create some events that can make them work," Elmer said.
What those may be remains to be seen. But he is not alone in thinking along those lines. Others are, as well.
And Liz, for her part, thinks we need a family-oriented attraction in town.
"Thousands of people stop to see the Enchanted Forest and that's great but it's quite a ways out of town," she said. "If we had something in town to attract families specifically it would help."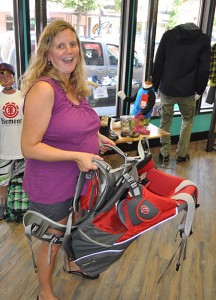 That spirit of family and community orientation is very evident at Free Spirit Sports.
The store has terrific kids' wear, Little Life child carriers and other items you might imagine you have to leave town to find. All their brands are from top-line manufacturers such as Burton, MSR, Merrell, North Face, Volcom and Mountain Hard Wear.
And while they are well known for their selection of outdoor gear, they carry hiking, camping, skiing and boarding gear as well as clothing and equipment for swimming, volleyball, soccer, basketball and more.  In fact, for snowshoeing and swim wear Free Spirit Sports is the place to shop.
"We're not a big box store or part of a chain, so we are able to be flexible in
the type of product we carry," Elmer said. "We also focus a lot on personal, high quality customer service to locals and visitors alike."
"We have a lot of really loyal customers so we try to carry a real selection of products here that give them good choices," Liz said.
The store has also been at the forefront of modernization in town. It underwent a major renovation in 2010, is now using Facebook and other social media tools and is building a new website.
"You have to modernize," she said. "We've seen a lot of changes in 20 years and we think it's important
to stay current. Otherwise you end up like some stores and get stuck in a time warp."
Elmer and Liz are also strong believers in supporting the community. Over the last 20 years their store has made about $100,000 in cash and in-kind donations to local non-profits and they even brought the first rail jams to Revelstoke to help renew the annual Winterfest.
"We have an undying commitment to Revelstoke," she said.
That certainly shows. For Elmer, you demonstrate that by giving back to the community, by hiring local people and making them feel as though they're part of a team and b y giving everyone friendly, engaging service.
About the contest…
Free Spirit Sports is challenging local amateur photographers to take their cameras and capture "a free spirit moment."
The contest runs until August 28 and there will be two prizes given to two winners every two weeks until then and a grand finale at the end
of the contest, where the best two photographs will win and awesome
prize. You have to be a Canadian resident and over age 13 to enter but if you think you've got that "free spirit moment" send it by e-mail  info@freespiritsports.com.
"We'll post it here on our Facebook page,"  Elmer said. "People vote by liking it and you can win some great prizes from North Face, Volcom and other companies."
Everyone knows there are some excellent photographers out there — so capture those inspiring moments and show everyone what you can do… you just might win something fantastic.
Please click here to view the contest poster.
Here are some additional photos of Free Spirit Sports: