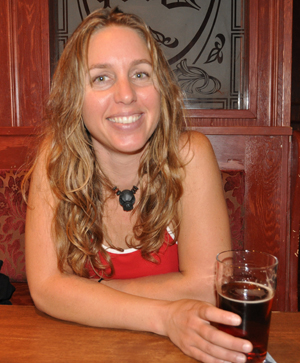 By David F. Rooney
You couldn't miss all the trucks and other vehicles that were Revel-stuck over the weekend. But what about the people?
For most of the drivers it was merely matter of waiting until the Trans-Canada Highway was cleared and traffic resumed, but for a few people, like Marla Bugge who lives on a houseboat on Mara Lake, the uncertainty was a little more palpable.
The 37-year-old lapidiarist most Revelstokians would recognize from her stall at the Farmer's Market lives on a houseboat on Mara Lake and had no idea what happened to it in the wake of the flooding along Highway 97A.
"I'm hoping it's still there," she said in an interview at the Last Drop on Monday afternoon. "But who knows? It could be piled up against the bridge across The Narrows (between Shuswap and Mara Lakes)."
Marla hopes it's still there, but it may be a while before she'll know for sure. While the Trans-Canada Highway was reopened later that afternoon, Highway 97A south from Sicamous remained under water and, perhaps, heavily damaged as well. That's a problem because she keeps her houseboat on the west side of Mara Lake. She normally parks her vehicle near Swansea Point and kayaks across the water to her home.
"I don't know what's happened to it," she said. "If it's gone then I've lost my home and my business, too."
Still and all, Marla was philosophical about the potential loss.
"Maybe it's an opportunity," she said. "Maybe it's a chance to change the course of my life."
Maybe, but that sounds a little drastic. Here's hoping for the best, Marla!
And the best did occur. Marla sent The Current an e-mail at 7:30 pm Monday saying, "Just got home. Had to hike in. a bit tossed about inside but all is ok."
And, too, here are a few other images of the situation  in town on Monday: