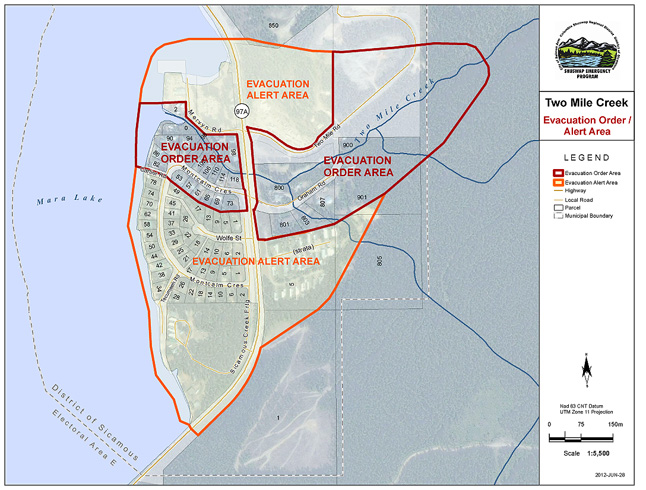 Just because you no longer see anything on TV anymore doesn't mean the washout and flood in Sicamous is over and done with.
Areas of the town 60 kilometres west of Revelstoke remain evacuated and the Canadian Red Cross says it has set up an assistance centre (which they are calling a 'resilience' centre, for some reason) and is accepting assistance from other Canadians.
A statement issued Friday said the Red Cross centre has been set up at the Sicamous Seniors' Centre at 1091 Shuswap Avenue. It can be reached by calling 250-859-3982 or 250-463-1391.
"The centre will serve as a central resource in the community as people work to rebuild their lives in the region," the statement said.
"The centre will be open daily from 8:30 a.m. – 5:30 p.m. until July 12, 2012. Individuals and families can visit the centre or call ahead to book an appointment with a Red Cross caseworker. An initial assessment must be completed with each family to determine the level of assistance needed."
Other Canadians wishing to support the Red Cross response efforts to the flooding are encouraged to contribute to the Western Canada Severe Weather Fund by calling 1-800-418-1111, online at www.redcross.ca/severeweather or by contacting their local Red Cross office. Cheques should be made payable to the Canadian Red Cross and mailed to the Canadian Red Cross, 124 Adams Road, Kelowna, British Columbia, V1X 7R2.
"Financial contributions are greatly appreciated as they provide the most flexible, fast and efficient way of helping those in need," the statement said. "Financial donations will go towards meeting important unmet needs, such as housing and food."
Assistance provided by Red Cross will not duplicate assistance provided through insurance, government or other agencies.