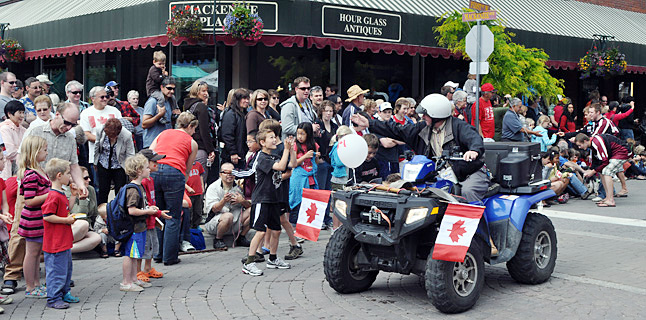 By David F. Rooney 
Break out your red-and-white duds and oil up your chainsaw — It's time for Canada Day and Timber Day.
This week will see the two day-long family-friendly community events celebrated on Sunday, July 1, and Saturday, July 7. And we just may have good weather for both. Scattered showers are predicted for Canada Day with unbroken sunshine forecast for the foreseeable future after July 4.
This Sunday will see the Canada Day events return to Queen Elizabeth Park after the Parks-themed parade starting at noon from the Provincial Courthouse.
This year's cake, which is being cut at 1 pm, is being baked by Buns and Beyond, the new bakery that is going in where the Chalet used to be located.
There will be live music by local bands Maritime Kitchen Party and Teds Amongst Men, a Bocce Tournament, and what Parks, Recreation and Culture Programmer Meghan MacIsaac called "family-inclusive events." These will include an old-fashioned potato sack race, featuring real potato sacks sent to her from PEI by her father, a tug-of-war and scavenger hunt organized the Revelstoke Museum & Archives. There will be prizes for both kids and adults.
MacIsaac said there will be plenty to eat, including fresh corn from Cooper's by donation, Duke's Dogs, burgers, dogs and more from Team Gloria, cold treats from the Multicultural Society and — this is a first — Mexican from Vance Shaw's El Norte. You can wash that down with soft drinks or, if you're in the mood, a cold beer or two from the beer garden hosted by Revelstoke Canine Search and Rescue.
Six days later, Timber Day begins with a Pancake Breakfast at the Village Idiot, with a portion of the proceeds going to the Forestry Museum. There will also be logging sport demonstrations downtown in conjunction with the Farmer's Market from 8 am until 11 am. Registration for logger sports begins at Centennial Park at 10 and closes at 12:30 pm, so if you want to compete you had better get there early.
The ever-popular birling and axe-throw eliminations begin at 11:30 and the messy but of-so-delicious Pie Gobble will be held at 12:30.
This year's events include choker races, nail hammering, stock saw buck, the three-person relay, Jack and Jill crosscut, the Groucho Marx and Survivor Tea Boil.
In addition, there will be a a firewood auction to benefit the Forestry Museum, a steam-powered equipment demo by the Shuswap Pioneer Collectors' Club, raffles and entertainment by the Erickson Family.
And, if you're hungry and thirsty, you can get something to eat from one of the many vendors on hand and a cold from the Elks Club Beer garden.
Please click here to view the official Canada Day poster.
Please click here to view the official Timber Day poster.