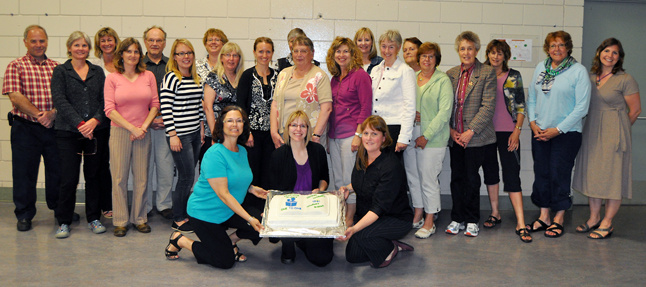 By David F. Rooney
Most people know how successful Revelstoke students are but how many know that some of that success is due to the decade of personal efforts by the 165 men and women who have participated in the Columbia Basin Alliance for Literacy's One-to-One tutoring program?
Well, it's true.
Ten years ago, the CBAL's Tracy Spannier, educators and other concerned individuals recognized that despite the school district's burgeoning success, some kids were falling between the cracks when it came to reading comprehension. But CBAL didn't have much of a budget, so she approached the Revelstoke Rotary Club for $500 to purchase books for the program.
Despite hr nervousness, the club responded positively to her request and some of its members, like Steve Bender, were among its first volunteers. (I remember interviewing Steven at the time and was struck by his deep-seated enthusiasm for the program — particularly the kids' reaction to his help. "Once they could see their own progress they loved it," he recalled during a small celebration at the Community Centre on Wednesday evening to mark the One-to-One Program's tenth anniversary.)
All of the 25 past and present volunteers who attended the anniversary party made similar comments.
"Volunteering is part of nurturing and love," said Bonnie Teed who was honoured for her 10 years of work with the program. "Giving encouragement and support to our children through reading and teaching them how special they are keeps me coming back to One-to-One. By the child gaining more skills and confidence and having the undivided attention that every child deserves makes me feel like I have made a difference in their lives. If I can help them to know someone cares I have done my part. Maybe they might remember Mrs. Teed one day when they grow up and refer to me as special as well. One-to-One  gives hope and teaches growth. Who knows? Conquering this very stumbling block may set the student up for the love of literature forever. This is why I keep coming back."
It seems to  be working. Here are a few comments from students, parents and teachers gathered by Tracy Spannier:
Question: How has your reading improved?
Answer: "Before I wouldn't stop at the periods and stuff… it makes more sense now."
One-to-One student
***
"For some students, this opportunity to read to others does not happen elsewhere. Fifteen to twenty minutes of One-to-One is worth an hour or more of group instruction. Keep up the good work!"
Judy Cowan
Teacher
***
"He enjoys the program very much. And the enthusiasm of the tutors! The program has greatly improved his interest and enjoyment of  books. "
Parent of a One-to-One student
***
"I am more confident. I can read faster and smoother. I understand stories better now."
One-to-One student
***
"I found One to One to be effective for building student's confidence. They were excited to go to One to One each time and the qualitative time spent reading with a caring adult is immeasurable! Thanks for your flexibility, consistency and hard work!"
Steve Smith
Teacher
***
"I strongly feel that the One to One program is an important part of the literacy program. I have noticed great improvement with the  children that have had the opportunity to participate."
Sonia Gagne-Maitre
Teacher
***
"He now understands there is a story in the book. He said it was like "watching a movie." He has told me many times he enjoys the One-to-One reading, and that it is really fun."
Parent of a One-to-One Student
***
Question: What is the worst thing about One-to-One?
Answer: Leaving.
One-to-One Student
***
This valuable, very successful and visionary program continues.
For more information about One-to-One please contact Communnity Literacy Coordinator Tracy Spannier at 250-837-6669. In the meantime, here are a few photos from the celebration: