The Monashee Unit Crew has launched their 6th annual Firefighters Hard Labour Auction.
A statement from the elite wildfire-fighting crew said funds raised from this silent auction will be donated to Live It, Love It! a non-profit organization that provides recreation opportunities for individuals with spinal cord injuries. Live It, Love It! is currently working with the community of Revelstoke to help establish an adaptive ski program.
The Monashee Crew began this silent auction on June 11. It will end on June 22 at 5 pm and the lucky winner will contacted by June 24.
The crew's 20 hardworking members will be auctioning their labour for a full eight-hour day.  From digging ditches, to chopping firewood, this fit and motivated crew is willing to do just about anything to help people with spinal injuries get active again.
The auction board has been placed at the Revelstoke Home Hardware at 201 Campbell Avenue and applicants can cast bids there during business hours. In addition, any online donations placed at www.liveitloveit.org during the two-week auction will receive 2 official Live It! Love It! stickers and a chance to win a draw prize.
This project is a fundraising tradition for the firefighting crew, which in past years has raised over $25,000 for organizations such as The Rick Hansen Foundation, the B.C. Children's Hospital, and Live It, Love It!
For more information, to offer donations, or to place bids by phone, please contact Monashee Crew Member Ryan Hill at 250-814-9769.
***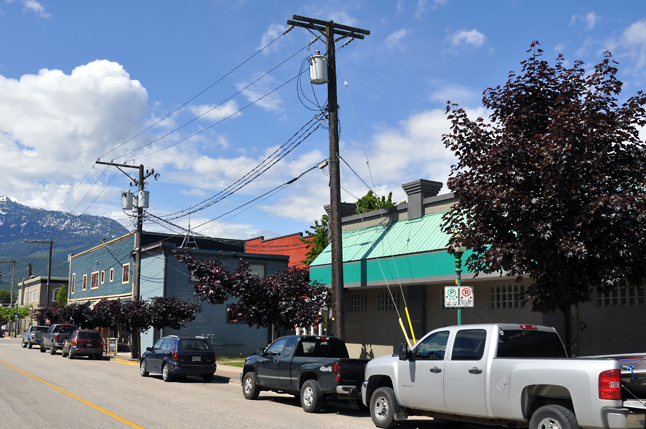 ***
 Glen Richardson of the Harley Owners' Group sent us the names of this year's winners of the club's annual draw… unfortunately, no one local is on the list.
1st — 2012 Switchback Chris Fleming-Vernon #3163
2nd — 2012 Sportster 1200 Brian Lefferson-Kamloops #1476
3rd — $2,500 Loren Waterhouse-Kamloops #3173
"Thank you to all supporters of this Fund Raiser for Kamloops Hospice Association," Glen said in his e-mail to The Current. "As a result of this year's draw, on Sunday June 10, a cheque for $30,000 was presented to the Kamloops Hospice by the Kamloops Harley Owners Group."
Tickets for the 25th Annual Draw will be available starting next February.
***
The City's Engineering and Public Works Department is alerting local residents to its plans to close Victoria Road to everything except local traffic between 9th Street and Mill Street on Tuesday, June 19, from 7 am until 4 pm.
A statement asks drivers to use an alternate route via Downie Street to access Downie Sawmills. Drivers intent on reaching the Public Works Yard should use use Vernon Avenue.
 ***
Ideally we'll see more hot weather this summer. And while we'll all enjoy that it also means watering restrictions will continue to be in effect.
"The use of water for sprinkling, irrigation, and the washing of driveways, and sidewalks is only permitted at even numbered property addresses on even numbered calendar days and odd numbered property addresses on odd numbered calendar days between the hours of 6 am to 10 am only," says a statement from the City.
"If further watering restrictions are required the City of Revelstoke will implement stage two (2) watering restrictions which is hand watering of plant material only."
***
The Public Works Department says new pedestrian crossing warning indicators have been installed at the pedestrian crossing at Fourth St. and Victoria Rd. If you have any questions or concerns please call the Public Works office at 250-837-2001.
***
Don't forget that the Columbia River Treaty Local Governments' Committee is hosting information sessions in seven communities-including Revelstoke on Wednesday, June 20, to prepare Basin residents to take part in the provincial consultations regarding this major international agreement.
The province is beginning its consultation to review the 1964 Columbia River Treaty between Canada and the U.S. this spring, and has committed to consulting with affected people in BC to ensure their concerns are heard.
"The information session in Revelstoke is hosted by local governments, with support from Columbia Basin Trust, and will include an open house starting at 3 p.m., a chance to discuss issues with experts from 5 p.m. to 6:30 p.m., and a free dinner so people can continue talking and sharing ideas before the consultation workshop with the Province at 7 p.m.,"  said a statement from Deb Kozak, CRT Local Governments' Committee Chairwoman and Councillor in the City of Nelson.
The Revelstoke consulations are to be held:
Wednesday, June 20 Open House  3 p.m. to 7 p.m.
Revelstoke Community Centre Discussion 5 p.m. to 6:30 p.m.
600 Campbell Avenue Free Dinner 6:30 p.m.to 7 p.m.
Provincial Consultation Workshop 7 p.m. to 9 p.m.
***
Relay for Life organizer Cheryl Fry says the teams in last Sunday's event have raised more than $46,000.
"We live in the most awesome community ever," she said in an e-mail to The Current on Monday.  "we are so fortunate to have raised so far $46,000, but this is not the final total as some of our teams handed in money after we had totaled last night, but this is so awesome, with 108 participants and 12 teams (down 6 teams from last year). Thank you to everyone."
***