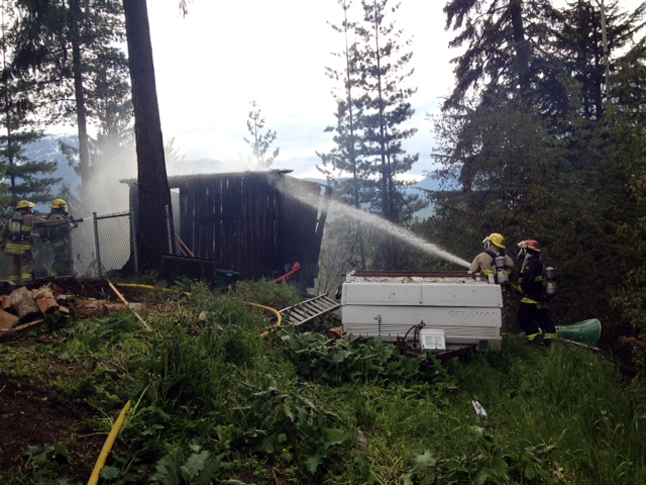 In the afternoon of May30 at 4:52 pm, Revelstoke Fire Rescue Services responded to a 911 call of a structure fire in the 1500 block of Melnyk Road in the Arrow Heights area.
"As our engines were approaching the area of Arrow Heights, the smoke plume was visible, so we knew we had a substational structure fire," Fire Chief Rob Girard said in a statement.  "Fire Crews quickly extinguished the fully involved fire, that was located in a shed while protecting the exposures near the outbuilding.  We began a quick offensive exterior attack as the  fire began to spread on to the wooded bank below the residence."
The building suffered major damage and crews overhauled hot spots on the wooded bank up to 100 fet from the structure.  Firefighters extinguished and overhauled the fire in just over an hour, with no injuries to any of the 21 Fire Personnel.
The Fire Chief advised that had this fire been in July or August with the right wind conditions, this would have had a completely different outcome.
"We appreciated the assistance from RCMP for traffic control and BC Ambulance for their Rehab services for our Firefighters," he said.
As to the cause of the fire, the Fire Chief indicated that the fire was caused by illegal burning or yard material that was left unattended.  The Fire Chief would like to remind residents that it is illegal to burn yard waste under bylaw 1772 which carried a fine of up to $1,500.
"It is unfortunate that the resident had to learn the hard way about the Burning Bylaw, but I hope this incident can serve as a warning and education to others that burning in our back yards is not only illegal… but dangerous," Girard said. Out door burning is, more often than not, the cause of residential house fires.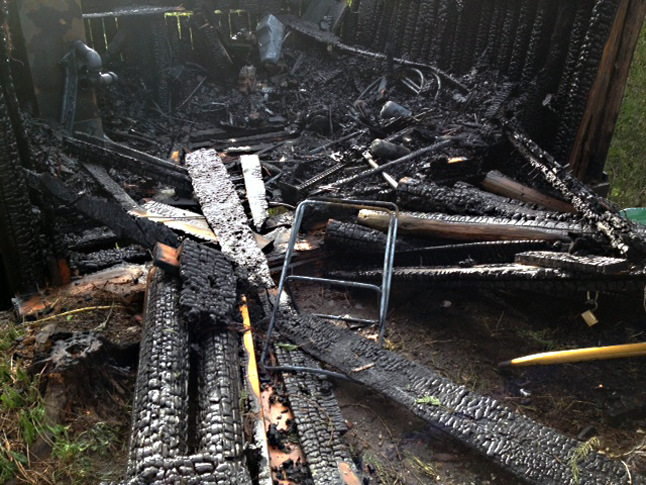 It my have been a hard way to learn a lesson, but resident Tim Dean nonetheless appreciated it.
"I would like to thank the Revelstoke Fire Department for their incredibly fast response in putting out the fire in my back yard shed Wednesday evening  May 30," he said in a letter to The Current.
"Neighbors spotted it right away, and the fire department had it out before I got back from picking up my son and getting some groceries, and they did a rapid job of ensuring any adjacent bushes had nothing burning below.  The loss of the shed was minimal when I consider what the fire could have spread to.
"It's embarrassing to admit I left  to pick up my son without fully extinguishing a small fire with a water hose, I am shocked at the speed that a spark spread first to the bark of a tree 10 feet away and a shed 15 feet away. Lesson hard learned and not to be repeated! Only special occasion fires are allowed, and clearly this was not one of those!"
Earlier that day, Revelstoke Fire Rescue Services also attended a downed power line at Downie Timber, where a loader operator struck a power pole and was sheltered in place until the power was disconnected. They also were dispatched to Revelstoke Mountain Resort where a contractor while grading a road struck a pressurized 4-inch propane gas main.