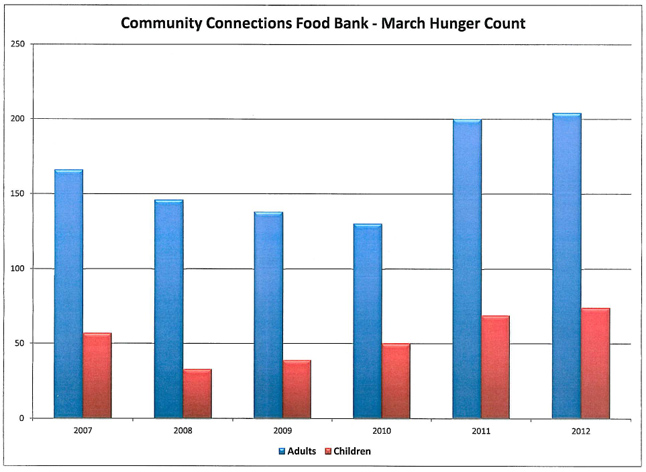 By David F. Rooney
Many of us may be completely oblivious, but hunger stalks the streets of Revelstoke.
Don't believe me? Then consider the fact that this year's Hunger Count by the Community Connections Food Bank undertaken in March showed that 204 adults and 74 children — all of them local people — in 166 households used the Food Bank.
That's up from the same month last year when 175 adults and 69 kids relied on the agency. In 2010 there were 180 men and women and about 60 kids. And back in 2002 when the Food Bank was "celebrating" its second anniversary the number of weekly hampers jumped from 50 to 115.
No matter how you cut it, hunger borne of poverty is here to stay.
Here's another depressing — and alarming! — statistic.
"The number of people who own their own homes and yet rely on the Food Bank has increased from six in 2011 to 21 in 2012," says Patti Larson, Community Connections' manager of Outreach Services. "These are people who are working, too." (Please click here to see more statistics on the face f hunger in Revelstoke.)
To a certain extent we expect to see some seniors, disabled people, the unemployed and others collecting hampers from the Food Bank. And those people are represented on the Food Bank's registry. But it's the working poor — working couples with and without kids — that are perhaps most alarming.
Working couples and homeowners now using the Food Bank
"This is very significant," Larson said.
Here's another interesting datum: this year the Provincial Association of Food Banks shipped food here in March.
"That's unusual," Larson said.
Indeed it is. So far the general community has ensured that the Community Connections Food Bank manages to meet its all-important target of $100,000 every year so that no one goes hungry.
People are still generous, but that generosity does not appear to be keep pace with the rising tide of hunger.
"We did very well at Christmas," Larson said. "But then, typically, donations slide off after that."
One woman's story
For every 100 people who use the Food Bank there are 100 different stories. Here, courtesy of Patti Larson, is one woman's story:
"I have been a single parent for many years and this has given me the motivation to always try to help others. If I see someone in need I like to share what I have. Despite the loss of many of my family members and the hardships that I have had to endure, a positive attitude is what keeps me going.  Sometimes it can be so difficult to keep a positive attitude, everyone has their ups and downs but I try to stay up more than down!
"About five years ago I was struggling to make ends meet, sharing food with family members and trying to help out financially took its toll and it became necessary for me to access the food bank.  The first time I walked through the doors I felt welcome and accepted for who I was. There was no shame and the staff and volunteers were very kind and helpful. I didn't know what to expect and was very happy with the quality of food and the generous amount that I was given. This food allowed me to help some of my family who were also in dire need.  I was very surprised during my first few visits that there wasn't any judgements made and I felt respected and valued.
"I have since had the opportunity to volunteer at the food bank and feel now is the time I am able to give back.  I enjoy working with the other volunteers and have made some good friends.  I am not judgemental and like all of the new people I have had the opportunity to meet and I am trying to make a difference.  I look forward to my time there every week and this has given me reason to get up in the morning and get out of the house. So if you ever feel down and out please try volunteering and see what a difference it makes in your life!"
If you'd like to help the Community Connections Food Bank there are several ways to do so:
Take Mom to a special Mother's Day Concert featuring Darrel and Saskia
Why not take Mom to a special concert on Sunday… a concert featuring the sweet, sweet sounds of former Revelstoke residents Darrel & Saskia.
The duo will be performing at the Seniors Centre this Sunday, May 13, at 7:30 pm with part of the proceeds going to the Community Connections Food Bank. Tickets are $15 for adults $10 for students and seniors.
Donate your Coopers Save-On More Points
Did you know that you can donate your Coopers Save-on-More points to your local Food Bank?
You can donate points in increments of 1,000 to Community Connections Food Bank
For each 1000 points donated, Overwaitea Food Group will provide $1.00 plus a matching $1.00 so that is $2.00 for each 1000 points donated
Your donations will allow the Food Bank to buy much needed items such as fresh fruit, vegetables and dairy products
Donate $2 when you buy your groceries at Coopers
Food donation bins are located at Coopers and Southside.
Most-needed items:
Tuna, salmon and other meats            Pasta sauce and tomatoes
Chunky soups                                             Meal in a tin (stew)
Breakfast cereals                                        Fruit juice
Canned vegetables/fruit                           Peanut butter
Canned milk                                                Rice
Baby food and cereal                                 Diapers
Toothpaste, shampoo                                Laundry detergent
Cash donations or direct debit to your bank account – tax receipts issued for all donations.