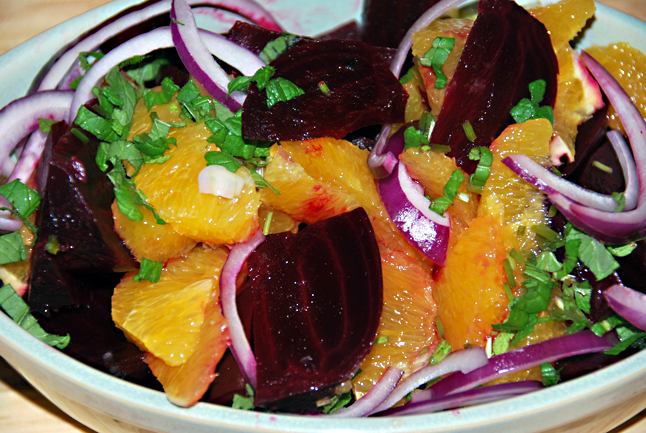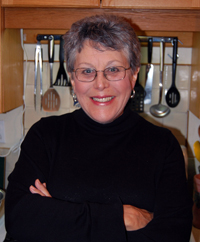 When we were prepping for a class at St. Peter's Anglican Church recently, I was asked if I might one day give a session on making salads. As lovely as a plain green salad can be (and a Caesar, my very favorite, has nothing much else) there are lot of other ways to build a salad. So for the vegetarians out there, as well as for those who want a change, here are some salad ideas that go far to providing sound nutrition as well as a pleasant change. These should be served at room temperature, not right out of the fridge.
 Avocado, Orange and Roasted Beetroot with Vinaigrette
Vietnamese Prawn and Papaya Salad with Ginger Mint Dressing
Curried Quinoa with Roasted Veggie Salad and Creamy Lime Dressing
Salad of avocado, orange sections and roasted beetroot
This is a lovely salad, so full of colour it almost blooms on the plate. Golden beets don't bleed red over everything in sight, but if you are eating this right away, you can use red beets by carefully placing them on top of the oranges so that all retain their glowing colour as separate points of the palette. I make this when we are feeling we might be coming down with colds, for the citrus lift.
¾ lb beetroot
2 oranges
1 avocado
arugula leaves or other tender greens
pea shoots if available
4 tbsp olive oil
juice of ½  lime
juice of ½ an orange
a few thin slices of red onion
½ tsp orange zest
1 tbsp Star Apple Balsamic vinegar
salt and pepper
Prepare the beetroot: peel and cut into wedges ¾ lb. beets. Toss in a bowl with 2 tbsp olive oil, salt and pepper. Roast at 400° F for 1 hour.*
Cool and set aside until time to assemble the salad.
Wash the oranges well. Peel with a sharp knife. Remove zest with a grater, and save for the chocolate pots. Then, again with a sharp small knife, carefully cut out the segments from their connective membranes. Squeeze the juice into a bowl, and set aside the orange sections until you are ready to assemble the salad.
Peel the avocado (it must be reasonably ripe) and cut into wedges. Toss in a bowl with the juice of half a lime — this prevents the avocado from discolouring, and adds zing to its flavour.
Arrange the arugula on salad plates.  A handful each person is plenty. Divide the avocado, beetroot slices and orange segments between the plates. Make a dressing of 4 tbsp olive oil, 2 of Star Apple Vinegar, the orange juice and orange zest, and a little salt and pepper, and drizzle this on top of the salads. Place the pea shoots on top. Serve at once.
*NOTE: Another way to prepare beets is to wrap each one in foil and roast for 1 hour at 400. Allow to cool complete, unwrap, and slip the skins off the beets. This usually works and is easy, but the cooling should be complete, so it takes longer than the peel-cut-roast method.
You can prepare the beets, orange segments and dressing ahead of time, then add the avocado and pea shoots just before serving.
As a main course, serve with a loaf of gutsy bread and a mound of herb butter.
Beverage: this can take a dark ale or a wine with character — a Zinfandel or an Italian hill town red. Try an Australian very dry red.
Vietnamese Salad of Prawn and Papaya with Ginger Mint Dressing
Another very attractive, colourful salad. It stacks up high on the plate if you cut the pepper, carrot and papaya into very thin long slivers. This is a little fiery because of the jalapeño and the fried ginger sticks. If you prefer a mild salad, leave out the pepper and just use one or two little crispy ginger sticks.
Buy a green papaya if possible. It will be yellow inside, but you want it as firm as can be.
And buy frozen prawns. The best are frozen at sea, shelled but uncooked and these are the best I've found here except for the very expensive spot tail cleaned raw BC prawns without preservative that are sold at Coopers. Look for a label that says just: Prawns. If they seem expensive, go fishing for shrimp, as we have done on the coast, and you will realize that at $10/lb they are an incredible bargain. A prawn is a shy creature thriving in depths of 300 ft of the coldest water imaginable; pulling them out of the sea is backbreaking work. It was a student of  mine in Vancouver, taking a writing class while on workman's comp for back injury during his years in the shrimp fishery, who told me about buying fish frozen at sea: according to him, fishers themselves will eat nothing else unless it's their own catch from that day. The sign of a cooked prawn in good condition is that it will be ever so slightly crunchy in your mouth — never soft or squishy.
If you don't eat shellfish, substitute either squares of salmon, lightly steamed and cooled, or baby new potatoes, boiled until tender-soft.
Serves 4 as a main course, 6 as an appetizer.
Salad
24 large prawns, shelled. You can devein if you like, but unless the little back stripe is very pronounced I don't bother anymore. In China they serve the whole prawn, whiskers, eyes, tail and all, and chomp down telling you what an excellent source of calcium are the tails, so I reckon we can live without deveining.
2 carrots, cut into fine julienne sticks
1 red bell pepper, deseeded and sliced into very thin curls
½ an English cucumber, sliced thinly
half a red onion, sliced thinly, or 6-8 spring onions, sliced on the diagonal
½  jalapeño pepper, deseeded and minced
1 small strawberry papaya, deseeded, peeled and sliced into thin strips
handful of fresh mint leaves
2/3 cup or chopped cilantro leaves
Ginger Dressing
½ jalapeño pepper, deseeded
2 garlic cloves
1 shallot
1 knob ginger, size of thumb
3 tbsp fish sauce
4 tbsp sugar
6 tbsp fresh lime juice
½ tsp fresh ground black pepper
Steps
Bring to the boil a saucepan of water and into it put the prawns. Simmer for 1 minute, until the prawns just turn pink. Plunge them into a colander and dowse them with cold tap water three or four times to stop the cooking. Drain in a sieve.
Slice the papaya and the carrot and bell pepper into thin strips, and mince the half jalapeño.
Slice the cucumber..
Chop the cilantro leaves.
Mix together all the above in a large bowl, then add the cooked shrimp.
Crispy Fried Ginger Sticks
1 knob of ginger, fresh
5 tbsp peanut or sunflower seed oil for frying
salt
Steps
Peel the ginger with a vegetable peeler and slice into very thin sticks
Heat the oil in a small pan until it makes a cube of bread sizzle when dropped into the oil.
Fry the ginger sticks until crispy. Drain on a paper towel.
Sprinkle with a small amount of salt and store airtight.
Ginger Dressing
Put all the ingredients into a food processor or a blender and process until the consistency is that of thin cream.

To make the salad
Add the dressing to the mixed salad ingredients in a bowl. Toss gently. Find a banana or a lettuce leaf, cleaned, and place on plates. Add salad. Top with mint leaves and fried crispy ginger sticks.  Serve with soft white dinner rolls, or a whole wheat baguette, or salmon ceviche bruschetta (next week), or with a small bowl of lemon basil rice (last week) on the side.
Beverage: beer, a rosé wine, or a very dry very cold white wine.
Curried Quinoa with Roasted Veggie Salad and Creamy Lime Dressing
This is a filling main dish, with a quinoa base and roasted veggies on top, with a rich dressing made of Greek style yogurt and lemon juice. It can be served warm or at room temperature. Don't serve it directly from the fridge, though. You can cook the quinoa and the roast veggies ahead of time, but take them out of the fridge an hour before serving, and at the half hour point, put them into a pre-heated oven to warm up.
Curried Quinoa
½ a plain onion, or 1 whole small onion
1 tbsp curry powder
1 tbsp olive oil
1 cup quinoa
2 cups chicken stock
½ cup chopped walnuts or pecans
½ cup dried cranberries
½ cup finely chopped parsley
½ cup fresh mint leaves, chopped
1 tsp salt
In a large saucepan, sauté the onion in the oil. Add curry powder.
Wash the quinoa well under running water through a fine sieve.
Add the quinoa to the saucepan and mix well with the oil and the curry powder.
Bring chicken stock to almost a boil in the microwave or in another pot, then when it is very hot, add it to the quinoa pot.
Cover and over medium-low heat, and let cook for 15 minutes.
Remove the lid from the pot for a moment; place a clean folded dish towel across the top of the pot, and replace the lid. Let this sit over a low heat for 5-10 minutes. Excess water will be absorbed by the towel, leaving the quinoa fluffy. Every grain should be popped open, revealing a small whitish circle around the grain.
Mix in the walnuts, cranberries, parsley, mint and salt to taste. Set aside, covered.
Roasted Veggies
Pre-heat oven to 400° F.
You can use any combination of vegetables you like here, except turnip or rutabaga, which are too strong. Here is one combination:
2 yams or sweet potatoes, peeled and diced large
4 onions, cut into quarters after peeling
3 bell peppers, red, yellow or orange, seeded and diced large
½ a cauliflower, cut into florets, washed well and dried
2 tbsp olive oil
1 tbsp balsamic vinegar – Maletti if possible
1 tbsp lime juice
salt and pepper
For garnish: 3 tbsp each of chopped cilantro and mint.
Cut all of these into bite-sized pieces and put into a bowl with the oil, vinegar, lime juice and salt and pepper. Mix well. Spread onto a cookie sheet and roast for 50 minutes, turning occasionally—at least once.
When cooked, allow to cool slightly.
Assemble dishes:
On each plate, make a nest of quinoa, then put a large spoonful of the roasted veggies on top. Sprinkle chopped cilantro and mint on top. Serve with dressing
Creamy Lime Dressing
1 cup plain Greek style yogurt
¼  cup lime juice
salt and pepper
½ cup chopped fresh basil
¼ tsp sugar