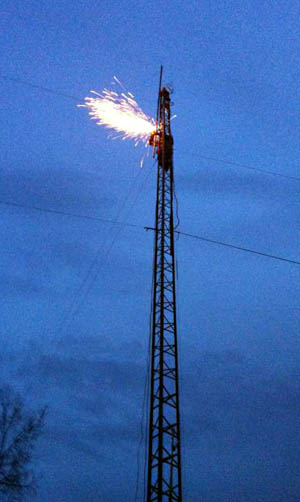 By Laura Stovel
At 7 pm on April 18th, Scott Duke scrambled up the 55-foot radio antenna on the roof of his house, dragging a 15-foot rod with him. He hoisted the rod above the antenna, clinging on to the latter with one arm while trying to wrestle the rod into place with the other. He dropped the rod once but managed to catch it and in the end had to cut it down to ten feet, a more manageable length, before bracing and soldering it into place.
Duke is on a quest for excellent sound clarity across Revelstoke for the community radio station he founded, Stoke FM. "I'm not happy yet," he said. "I want people in Columbia Park to have excellent sound." While Stoke FM is able to cover all of Revelstoke, the sound quality is better in some areas than in others. Duke describes the challenge of gaining clear reception as his obsession at the moment.
For this small, community station, run out of Duke's basement, budgets are a concern. Duke was able to buy an old ham radio tower from a 75-year-old man from Oliver for $200. Now he is trying to add to the antenna bit by bit and gratefully accepts help where he can find it. The custom brace for the antenna, for example, was made and donated by Lou Brown. "We have no one who is technically knowledgeable in this radio space so we are learning as we go," he said.
Stoke FM is also limited by Industry Canada to a four-watt license while most commercial radio stations normally broadcast between 300 and 1,000 watts, he said.
Despite these technical challenges, this small commercial station, which only began broadcasting in early December, is meeting its goals. "Our goal when we launched was to have solid listeners through the town in six months" and to have all the population aware of the station. "I think we have that," he said.
Next, Duke said, "we want to branch out more to the active sports community" like skiers, snowboarders, mountain bikers. "We want to draw people into Revelstoke. A lot of the ski community is streaming Stoke FM" on the internet – sometimes coming from as far away as Australia and Ireland.
Duke also seeks to increase the in-house content. He estimates that local content is currently at 5% and he would like to reach 15%. This would mean having more interviews and more local people producing shows.  Over the winter, about 12 volunteers helped produce shows, including Annie Hewitt, Dennis Severino, Joel Norsworthy, Mike Watson, Sarah Peterson and Alex Cooper. Some volunteer broadcasters were here for the ski season and have left.  Duke also expresses an interest in working with high school students for a program called Crazy Kids. "The door is always open here," he said.
Stoke FM programs primarily feature music but they are not defined by a genre as Revelstoke's other FM station, EZ Rock, is. "We have music from every genre, but the best of every genre," Duke says, though he adds that the station primarily aims to reach the "under 40" demographic. This may mean world music or Canadian music but, the Stoke FM website asserts, "You will not hear bands like Anne Murray, Brian Adams, Nickelback etc.  We have all definitely heard these bands enough.  Oh man, Michael Buble…no way ." The station also features interviews and news on topical local issues.
Although Duke is only 30, this is not his first entrepreneurial venture. Before he came to Revelstoke five years ago – following his father, who had been skiing here for a decade – he had founded a camp in Muskoka, Ontario, called Base Camp, which he ran for several years. Does he feel afraid when he starts these new ventures? "You always have fear," he said. "You just get better at swallowing it. At the end of the day, I think the station is good for us. I just want a crystal clear signal!"