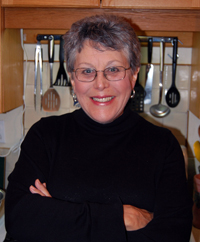 Bruschetta with ricotta goat cheese, roasted grape tomatoes and onion confit
Bruschetta with venison sausage and mozzarella
Bruschetta with salmon ceviche 
Yes, in Italian you pronounce the ch as a k. As in Brusketta.
This is the Italian version of "toast and." It is one of the easiest things to make as an appetizer, or, with salad or soup, as a whole supper or lunch. Unless you are going all out to impress, or want an appetizer or snack for 20 people, make just one or at the most two of the above.
All these bruschetta follow one patter: drizzle oil on the bread and toast it lightly, add a  ricotta-cream cheese spread that you can add a little goat cheese to if you like it and put on a topping. A final garnish of herbs make things pretty.
The roast grape tomatoes ar areminder that summer is on the way—raosting the toms brings out the flavour. I've used venison sausage here because Chris gave me some of his, which is great on its own but takes the mozza really well. Regular mozzarella will do, but if you can fresh, do — the elastic consistency of the packaged mozza balls is a little rubbery when baked. The salmon ceviche is one I've wanted to try, and met my expectation: tart, sharp and amazingly well cooked in the lime juice.
Basic Bruschetta
Get a baguette, a day old at the very most, and slice it diagonally.
Preheat the oven to 400° F.
Rub each piece with a cut clove of garlic. Put all the slices on a cookie sheet and drizzle with about ¼ cup of olive oil, making sure that each piece gets some oil. Bake for 2 minutes, turn over, and bake for another minute or two, or until each piece is toasted but not rock-hard.
Top with one of the elements below, and just before serving return to the oven for 3-4 minutes to warm everything up and melt the cheese a little. Don't overcook.
Cheese spread for Bruschetta
Drain in a sieve for ten minutes then put into a small bowl ½ cup ricotta.
Add ¼ cup cream cheese
If you like goat cheese, add 2-6 tbsp goat cheese, to taste
Mix well.

Bruschetta with ricotta/goat cheese spread, roasted grape tomatoes and onion confit
Spread each slice with 2 tbsp. cheese mixture; add a spoonful of roasted grape tomatoes; then put a spoonful of onion confit on top. Serve.
Roasted grape tomatoes
Wash 1 cup of grape tomatoes. Cut each one in half. Mix with 1 tbsp olive oil. Roast for 20 minutes in an oven set to 400° F, on a flat baking tray. Remove and set aside, overnight if necessary. Bring to warm temp before assembling the bruschetta.
Onion Confit
Buy this ready-made from La Baguette. You can make your own but it takes hours of slow cooking: sliced onion with butter, sugar and balsamic.
Bruschetta with venison sausage and melted mozzarella
If you don't have a hunter in the family to provide the venison sausage, use salami, or splurge on some prosciutto, or use ordinary cooked sliced Italian spicy sausage.
¼ cup cheese spread, above
200 grams sausage or proscuitto
1 cup grated mozzarella cheese
12 slices oven-toasted baguette
¼ cup olive oil
½ cup fresh oregano leaves
Spread cheese on the toast. Slice the sausage and place slices on the toast. Add mozzarella cheese. Sprinkle oregano leaves overtop. Drizzle with the oil. Top with another dollop of the ricotta mixture. Scatter fresh oregano leaves on top. Bake another 10 minutes, or until the cheese melts.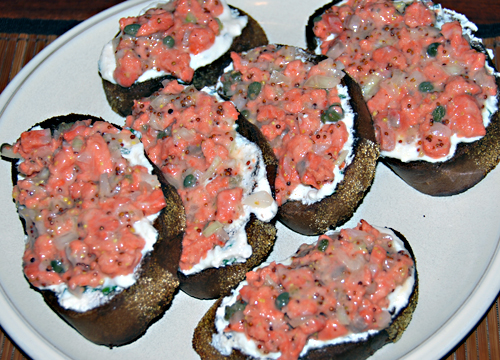 Bruschetta with Salmon Ceviche
Serves 2-4 as an appetizer
Ceviche is  made all over Latin America with fresh fish. Lime juice is used to "cook" the very small pieces of diced fish. You marinate the fish in the lime juice with some salt for two hours before serving, and the fish "cooks."
We used dark rye bread for this salmon ceviche. Opinions were mixed abouot whether it was any tastier than plain or multigrain baguette.
¼ cup cheese spread
8 oz (250 grams) wild salmon, deboned
juice of one lime
2 tsp grainy mustard
1 tsp basil citrus salt (or regular sea salt)
1 tsp capers chopped
pepper
Cut the skin off the salmon piece and remove any bones. Dice the salmon. This is easiest when still half frozen, so buy frozen and let it defrost half a day. In a small container with a lid, mix the other ingredients in, starting with the lime juice.
Spread ¼ cup ricotta cheese mixture (above) on the toasts. Then divide the ceviche between your pieces of toasts and pat down with the back of a spoon.
Serve topped with chopped cilantro or chopped flat leaf Italian parsley.