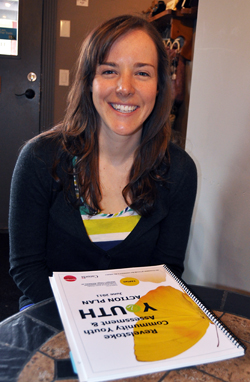 By David F. Rooney
Karlene Loudon's young but, boy, does she have energy and a brain that keeps looking for solutions to the problems facing local youths.
As the newly hired Youth Liaison — a position she began just last week — this 28-year-old knows she has a lot on her plate.
Loudon was selected to put last year's Youth Action Plan in action and hopes her personal experience can help provide some leadership on youth issues.
Born in new Zealand, she sailed with her parents to Canada at a young age. She was raised in White Rock and earned a degree in adventure tourism from Thomnpson Rivers University. She has worked for Nichols Environmental here in Canada, Outward Bound and, in Chile, with indigenous people to develop a tourism industry in Tierra del Fuego. That's pretty good for a young woman who hasn't even hit 30.
Loudon says her position is faitly flexible and is intended to "build youth engagement in Revelstoke."
"This could include working with other organizations to create and expand upon events and programming for youth," she said in an interview last week. "The position will also aim to link youth to available programs and funding. Projects will be youth-driven and directed, and can include adventure activity, sporting, educational, arts, culture, etc."
"There's a lot of interest in the community about finding opportunities for youth to stay in Revelstoke and build futures here," she said.
Talk to her for more than five minutes and you quickly get a sense that she is thinking constructively about this issue.
"There is a lot of room for growth and employment generation, particularly in the areas of arts and culture," Loudon said. "Take somethign like furniture. Why can't young people take used furniture and refurbish it completely?"
That's a hell of an idea. If you've ever perused The Stoke List you're bound to have been struck by the sheer amount of second-hand furniture — much of it in very iffy condition — changing hands in the winter. Why couldn't some entrepreneurial-minded young people acquire some of that stuff, refurbish it and sell it at a modest profit?
"I personally think furniture is the way to go," she said.
Or how about  clothing design and manufacture? There are more than a few young people in town with ideas about clothing design. What might happen if they had an opportunity to put bring dreams and ideas to life?
"It will be neat to see it all unfold," Loudon said.
We agree.
Click here to read the full Youth Action Plan