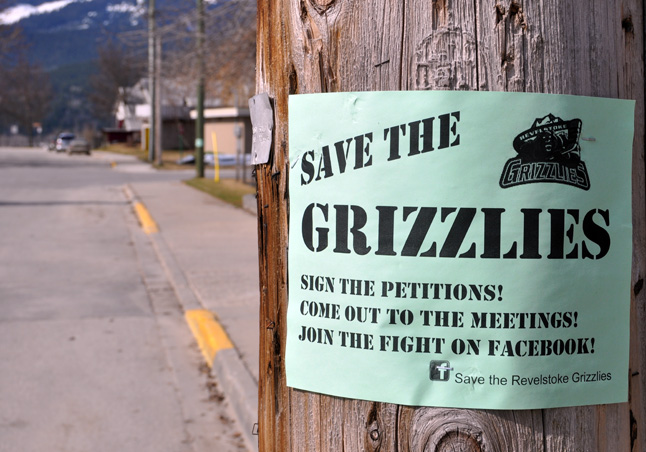 By Laura Stovel
With talk of the possible departure of the Grizzlies Junior B Hockey team from Revelstoke, minor league coaches, parents and players are worried.  The Grizzlies are important for minor hockey as they attract new players, mentor young players and provide a team that serious teenaged players can join without having to leave town to train.
The potential departure "will definitely have an impact," said Peewee hockey coach John Leeder. "My gut feeling is that the pre-novice team" – the first-year team of six and seven-year olds – will suffer. Already faced with declining numbers in the minor league, the Grizzlies were an important draw for young children who entered the minor league after watching the Grizzlies play, he said. "We would take our son Jake to Grizzlies games when he was about four or five. He really looked up to them. Seeing them really encouraged him to play."
Atom coach Steve Bull agrees. "We already struggle to get enough numbers to fill up each age group and I feel that without the grizzlies it would be even harder to draw new interest and attract new players," Bull said, a view echoed almost to the word by PeeWee coach Mike Speerbrecker.
For the young players in the league, the Grizzlies provide an identity, said Chris MacDonald who has three boys in the minor league and whose family billeted some members of the Grizzlies. All the minor league teams "take their names from the Grizzlies", for example the PeeWee Grizzlies and the Bantam Grizzlies. "It gives the kids something to strive for."
Ten year old Josh Guenther, who plays for the Novice team agrees. "We kind of look up to them to be a leader to us and show how hard we're going to try when we get older," he said.
MacDonald said that Revelstoke needs a home town set of teams that would take players right to the Junior B level. When young players "get to the Bantam and Midget levels they need a place to go" and the Grizzlies team provides that option. As it is, there are not enough players for a Midget team in Revelstoke so "a couple of kids were able to practice with the Grizzlies," he said. This concern was echoed by Bantum player, 13-year-old Nii Noi Tetteh who fears that "older kids won't have a team to go into."
MacDonald said that former Grizzlies coach Brad Fox once had a vision of having a hockey academy in Revelstoke but is now working towards building the academy in Chase instead. Seeing the possibility of the Grizzlies leaving town "it makes me mourn the loss of that potential" of developing strong, older hockey players in Revelstoke, he said.
MacDonald also noted the many contributions the Grizzlies make to our community. "They come out at all levels to help out." Grizzlies are involved in the Buddy Reading Program in elementary schools and they mentor young players through the Seventh Man program in which they allow select young hockey players to sit in the change room as they prepare for games. They are "pretty good role models," he said.
Josh Guenther benefited from the Seventh Man program. "It felt great to be with the Grizzlies. It was great to skate around with them and to go in the dressing room and hear the older players talking about what they were going to do, their strategies," he said.
For young hockey players and fans, the potential loss of the Grizzlies also means the loss of good entertainment and involvement. Six-year-old Tommy MacDonald had a thrilling experience entertaining fans wearing the bear suit that had been his Halloween costume before a game while fans waited for the visiting team to arrive. And 11-year-old Tettey Tetteh said, "I really don't want them to leave. They were good entertainment for the city. I liked going to the games with my friends."
For minor hockey, the loss of the Grizzlies would be a big loss indeed.