By David F. Rooney
The North Columbia Environmental Society's organizers of Wednesday evening's Clean Bin Challenge event should be feeling pretty pleased this morning.
Not only did 98 people turnout for the three-hour event, which included a screening of the very funny and informative flick, The Clean Bin Project, but 14 households registered for the society's own Clean Bin Challenge which runs between April 26 and May 26.
In case you missed it, The Clean Bin Project (Click here to visit the movie's website and its blog) followed a Vancouver couple through an entire year after they challenged each other to see who could reduce their consumption of 'stuff' the most. The film was at times funny and at other stunningly brutal as it documented not only the sheer amount of plastic crap that is simply discarded in landfills, but its effects on life in the ocean.
Ocean creatures at every stage of the food chain are being fooled into consuming plastic instead of organic matter. That was visually underscored through a brief interview with the man who discovered the twice-Texas-sized patch of plastic garbage in the middle of the Pacific and photos by American artist Chris Jordan of baby albatrosses who are unwittingly fed plastic by their parents. Literally filled to the brim with plastic junk the young birds die by the thousands at isolated nesting areas in the Pacific. (Click here to visit Jordan's website and see his documentation, however, be aware that these are very graphic images.)
Jordan has also created a number of disturbing but strangely beautiful artworks featuring hundreds of thousands and even millions of discarded objects. (Click here to see his online-exhibit, Intolerable Beauty.)
The film really made people in the audience gasp and even cry out with both delight and horror.
"We thought, 'Wouldn't it be great to find out how many people are reusing, repurposing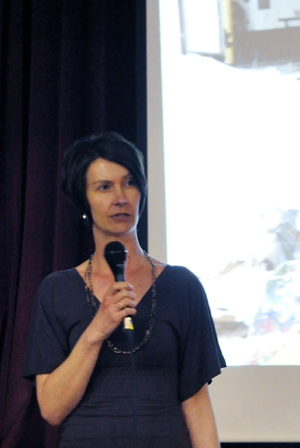 stuff,'" said NCES member Lori Anderson who helped organize Wednesday evening's event. "I'd encourage all of you to look at garbage differently."
Those individuals and families participating in the local Clean Bin Challenge will be audited and one household's adventures will be video recorded by The Current. All results will be publicly revealed during the Chickadee Nature Festival next month.
The evening, which was punctuated with lovely musical performances by Matt Potter, included some brief presentations by Carmen Fennell, the Columbia Shuswap Regional District's Waste Reduction Facilitator, talks about some of the district's programs, including this Sunday's hazardous waste disposal event at the Bottle Depot.
Brett Renaud of BRESCO talks about the ins and outs of curbside recycling and the Community Foundation's Steven announced an upcoming new program called Bagging Out! This is intended to challenge local retailers to reduce the number of plastic bags they hand out. They'll be encouraged to ask customers to pay a nominal fee for a plastic bag. All or a portion of that fee will then be donated to the foundation's Environmental Fund which is intended to finance local environmental projects.