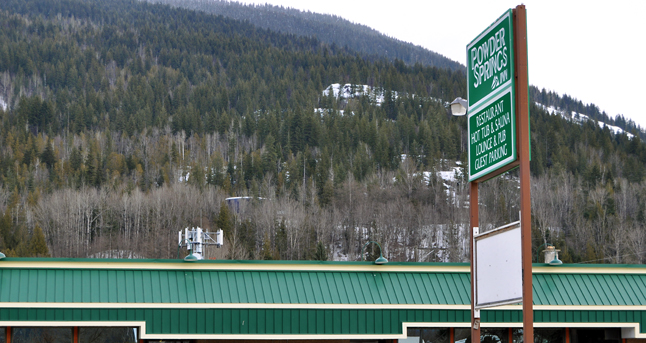 By David F. Rooney
The Powder Springs Inn will be the new home of the Revesltoke Theatre Company, which will inaugurate its move there with the 2012 Theatre BC Kootenay Zone Festival, says the company's Lyn Kaulback.
"We are partnering with Powder Springs to present theatre in a new venue there," the veteran director, producer and actress said Thursday morning. "We are really quite excited by this."
She said actress-director Anitsa Hallewas' husband, Blair Brennan, originally suggested the two enterprises could work together.
Powder Springs General Manager Emma Kirkland said the new space is in what used to be called Snugs, the smallish room with a bar and fireplace right next to MacKenzie's dining room. The room is being enlarged and renovated and will be used for the theatre company's productions, dinner theatre, weddings and conferences.
"It makes us more versatile," Kirkland said. "We are going to call it McGregor's, which is a nod to the original name of the hotel. Way back when it was called McGregor's Motor Inn."
The theatre company had originally hoped to use the Community Theatre as its new home but that space is too expensive for them. The original per-night base cost in that space at RSS was pegged at $300 and later lowered to $200 a night. With associated costs on top of that for concessions, cleaning and rehearsal time put it beyond the theatre company's capablities.
Kirkland said she is already seeing the new space as a home for improv nights, youth-oriented Open Mic nights, dinner theatre and other events.
The extensive renovations are expected to be completed in time for the theatre company's upcoming performances of Norm Foster's comedy, Mending Fences, on April 26 – 28 and May 3 – 5. That will be followed by the Zone Festival that will see performances by theatre troupes from Nakusp and Salmo, as well as Revelstoke. The dates for the Zone Festival are:
May 10 — Revelstoke Theatre Comnpany's performance of Norm Foster's play, Mending Fences;
May 11 — Nakusp's Mirror Theatre's production of, The Shift, a locally written play by Janet Royko; and
May 12 — Salmo's Space On The Floor Theatre's production of David French's play, Of The Fields Lately.
The plays will be adjudicated by Amy Baskin of Kamloops.
Tickets are expected to go on sale about April 15.