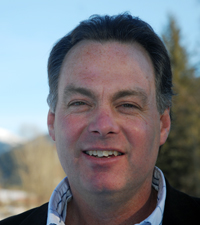 In my last MLA report, I laid out some of the issues that had been raised with me by seniors about a driver fitness assessment program called DriveABLE.  The first concern was that the testing was only available in Kelowna or Nelson making it very difficult for seniors in this area to access the test.  And the second concern was that the test which is done using a modified computer screen was intimidating and confusing.
At first glance, the DriveABLE issue is one of fairness to rural seniors.  And I have clearly stated that it not reasonable to ask seniors in the East Kootenay to travel such a vast distance to be tested.
But on further study, primarily done by my colleague in the Legislature Nicholas Simons, we have discovered that the difficulties with DriveABLE go much deeper than a simple lack of access.  The BC government's move towards this particular driver assessment program has been called into question by a number of experts.  And seniors are demanding answers.
Drivers' fitness assessments have traditionally been done by doctors and it is not clear that a moved to a computerized test is the best method of determining cognitive function.  And it is even less clear that DriveABLE, a private company, offers the best of the computerized programs available.
Seniors are required to take the DriveABLE computer test based on a screening process performed by their doctor.  Doctors are now required to use a screening test called SIMARD MD, a test that has also raised concerns.
None of us believe that any person should be allowed to continue to drive if they can no longer do so safely.  And we all accept that we need to have a way to ensure that drivers' abilities are assessed as they age.
But people in this area will not accept that seniors should have their licenses removed improperly or unfairly.  It is the responsibility of government to provide a fair and accurate assessment program for drivers.  At present, there is no proof that DriveABLE is meeting that standard.
Norm Macdonald is the MLA
 for Columbia River – Revelstoke and  Opposition Critic for Forests, Lands and Natural Resource Operation. He can be reached at 250-344-4816 | 1-866-870-4188 |104, 806 9th Street N | Box 2052 Golden BC V0A 1H0 | www.NormMacdonald.ca