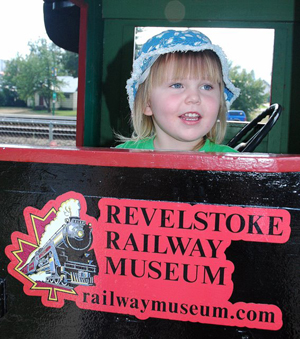 Follow the tracks to the Revelstoke Railway Museum during Spring Break and get up close and personal with railway history.
From Thursday March 22 to Sunday March 25, the museum will be enlivened by stories, activities, and hands on fun.
Kids will have an opportunity to learn about the science of steam locomotion, how to be safe around trains, and how to drive a diesel engine using the museum's simulator. Now that' got to be pretty cool.
Local retired railroaders and volunteers will be on hand to bring the museum to life, through their experiences and knowledge of the past.  The Revelstoke Model Railroad Club will be there as well to run trains on their layout. What's more, there will be a specially designed treasure hunt.
From 1 pm until 3 pm each day, the museum welcomes kids of all ages and their families to take part in activities ranging from seed-planting crafts, a tour of the cab of the steam engine, a table setting challenge in the business car, and the opportunity to enter a poster. The winner of the poster contest will receive a subscription to Thomas and Friends magazine, and have their creation framed and auctioned off during the annual Railway Days festival.
It will also be your chance to see a collection of special postcards. The result of a Heritage Week project, postcards designed by local Grade 5 and 6 students, for Heritage Week, will be on display.  The winner of the postcard draw was Brogan Copp, from Arrow Heights Elementary, and he will be enjoying a locomotive ride to Glacier Station, courtesy of CP.
Thank you to all the students and teachers who took part.
For more information please call 250-837-6060 or send an e-mail to railway@telus.net