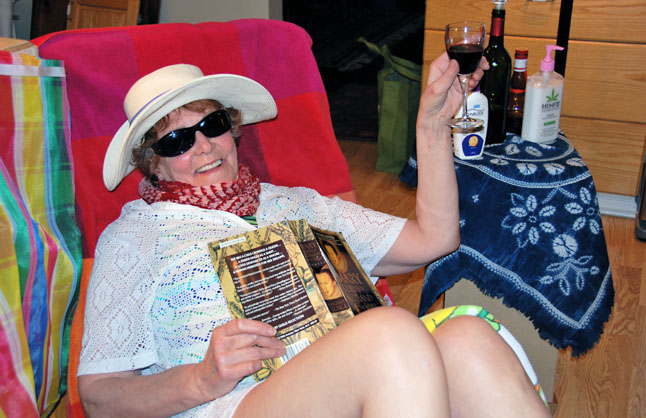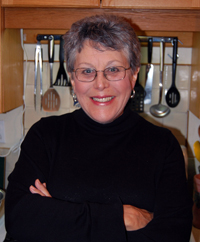 Chicken in white wine served in a sourdough loaf
Scalloped tomatoes
Chocolate pots with Grand Marnier
Spring break is around the corner, and if you're off to bask in the sun, my best wishes. But those of us not zooming to Zihua or motoring around Maui  also need a break. One way to provide it is to cook ahead, so that you have several things in the freezer or fridge that can be heated up when you come in the door. For the next couple of weeks, I'm giving myself a holiday at home.
This kind of a break was perhaps most famously carried out by a character called Margot in To The Manor Born, a British sitcom that aired in the '80s. Margot is poor but both aristocratic and pretentious, a widow who occupies the cottage on her family former estate that now belongs to a supermarket CEO. Margot wants to keep up with her friends but can't afford a holiday in the south of France. So she cancels her newspaper and milk delivery, closes the curtains, hides her car in the garage, and sets up a sunlamp, garden chaise and drinks table in her living room. She basks there, reading all those books she hadn't got around to yet, letting the phone ring, and writing post cards she will later mail from Heathrow Airport. She has a wonderful time and gets a great tan.
That's not quite what I'm planning, but for the cooking end of things it is. My recipes for this month will be things you can prepare ahead, order in, or eat cold. The goal is to keep dinner preparation to no more than 20 minutes — even if you are entertaining.
Spicy Chicken in White Wine served in a Sourdough Loaf
This recipe is from Italian Cooking in the Grand Tradition (1982) by Jo Bettajo and Anna Maria Cornetto. I've made it a lot, and used it for the basis of other chicken plus recipes. The original contains a lot of capers and black olives which I've omitted here because they're not everyone's favorite, but if you like these, by all means add a cup of pitted black olives and ½ cup of capers. The flavour is VERY intense. The dish provides bread, so you don't need another carb on the plate. People love to sit around and slice up the serving shell of sourdough.  
NOTE: La Baguette is making gluten-free bread and pasta. Ask which days it's available.
1 loaf of sourdough, round, and at least 9 inches in diameter
1 kilo chicken, preferably skinless boneless breasts and/or thighs
4 tbsp olive oil
4 tbsp unsalted butter
3 cloves of garlic, minced finely
1 red or yellow pepper, deseeded, sliced and chopped
1 jalapeño pepper, deseeded, minced fine
1 tsp red pepper flakes. Make it 2-3 tsp if you like things really hot.
1 tsp anchovy paste
1 cup dry white wine
coarse salt
fresh ground black pepper
Wash and dry the chicken pieces and cut them into pieces about half the size of your thumb.
Heat 2 tbsp butter and the 4 tbsp oil in a large skillet, and add the chicken pieces. Sauté for 10 minutes, then add the chopped peppers, garlic, pepper flakes, anchovy paste and the white wine. Cook for another 20 minutes over low heat, uncovered. The chicken should be done, tender and juicy with lots of pan juice all around. Remove from the stove when you are sure it's done—internal temp should be 170° F by an instant read thermometer—and put it in a shallow covered container in the fridge to assemble the dish the next day. If you are cooking well ahead, freeze this stew.
To prepare the sourdough loaf for serving, carefully slice off the top of the loaf so you have a lid no more than ½ an inch thick. Then just as carefully pull out the centre from the loaf, reserving the bread pieces for crumbs later on.
Heat 2 tbsp butter with a sliced clove of garlic in a small pan. Discard the garlic after cooking for 2-3 minutes, and cool the butter. Drizzle butter into the loaf, and onto the lid. Set on a pie plate and toast the loaf in the oven (400° F) for 10-15 minutes. Toast the lid the same way, but on a different plate.
To assemble the chicken dish, re-heat the chicken stew in a pan on the stove, then ladle it into the sourdough "server."  Pour the juices in as well. Put the lid on the bread, and place on a serving dish or plate a little larger than the loaf.
To serve, let guests help themselves to chicken and to a slice of the loaf crust, which is by now soaked with the juices.
You can make the chicken stew well ahead and freeze or refrigerate (2 days max.) The bread can be prepped one day ahead. Thaw the chicken stew then reheat in a pot for 20 minutes before serving—as you heat the oven for the bread and the final warming of the whole before you serve it.
Scalloped tomatoes
This is a recipe from Ina Garten, the Barefoot Contessa's book How Easy is That? (2010) which I bought last year at Grizzley Books. I've made if often. It's a good recipe for entertaining as you can make the whole thing ahead, and it uses ordinary grocery store Roma tomatoes at a time of the year when most toms are tasteless but roasting them like this brings out terrific tomato flavour.
You need a good size gratin dish or pyrex or glass baker for this.
5 tbsp olive oil
3 lb Roma tomatoes
3 cloves garlic
2 cups toasted bread dice (slice any loaf of slightly stale bread into squares and toast these on a baking sheet for 30 minutes in a 350° F oven.) Don't be tempted to use commercial boxed crumbs, but bags from a bakery are okay.
2 tbsp sugar
2 tsp Maldon salt
½  cup basil leaves, minced as for chiffonade (roll up leaves together and slice as thinly as possible)
1 cup parmesan cheese, freshly grated
Use a large skillet and heat 3 tbsp of the olive oil. Into this put the toasted breadcrumbs. Stir fry for about five minutes. Add the tomatoes, cleaned and quartered, the garlic, the sugar, and the salt. Cook for about 10 minutes. Remove from heat and add the basil. Pour into a shallow baking dish. Top with the grated parmesan. Refrigerate overnight or  until two hours before serving. Allow to come to room temp, then bake at 400° for 40 minutes or until  nicely browned on top.
You can prep this dish ahead and either freeze (be careful of your baking dish) or keep in the fridge for 2-3 days before cooking.
 Chocolate Pots Grand Marnier
This is the same recipe The Current published in 2009, but with a little Grand Marnier added, as well as orange zest, to make a more celebratory dessert.
Combine over low heat in a double boiler the following:
2 cups whipping cream
8 oz Callebaut semisweet or sweet chocolate, grated
2 tbsp sugar
6 lightly beaten egg yolks
2 tbsp Grand Marnier
1 tsp grated orange zest
Instead of grating the chocolate, you can melt it, slowly, 20 seconds at a time, in a ceramic bowl in the micro, using medium low heat setting and checking after every 20 seconds to make sure it doesn't burn. Cook over low heat, stirring constantly, about 3-4 minutes or until mixture just begins to come to a boil. Remove from heat and strain into a bowl. Pour into demitasse cups (makes 8) and place in refrigerator uncovered until cool. Cover with plastic wrap and refrigerate until cold, at least 6 hours. (Can be made 2 days ahead. Keep refrigerated.) Top with whipped cream, garnish with candied orange peel and a mint leaf, and serve. You can keep this in the refrigerator for 2-3 days.
Candied Orange Peel
In a pot, dissolve ½ cup sugar in 1 tbsp Grand Marnier. Add some squares of orange peel –  about ½ inch square if possible. Cook over low heat for 10 minutes. Remove, and roll the orange pieces in a bowl containing 2 tbsp sugar. Cool. You only need one piece per person, so quantities are small here. This keeps, in an airtight jar, for several weeks.