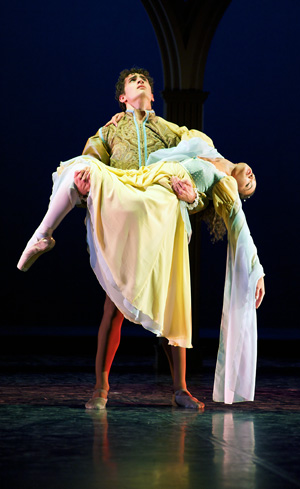 It's not Valentine's Day, but March 14 will surely set romance lovers' hearts a-throb when Ballet Kelowna brings its sumptuous A Grand Passion to the Community Centre.
A statement from the company said Tuesday that A Grand Passion includes a mosaic of dances from the classical to the contemporary. Incorporated into the five piece program is the magnificent and technically challenging choreography of the pas de trois from Allegro Per Tre and the pas de deux from The Sleeping Beauty, an invigorating look into the sultry dance of love and passion in Tangazzo, and the most tragic and well known love story in Romeo and Juliet Appassionata. Rounding out the program is the 2011 commissioned contemporary ballet north shore, by Montreal choreographer Shawn Hounsell, an avant-garde work of intense physicality and passion juxtaposed against the deep and complex music of British composer Gavin Bryars.
"Ballet Kelowna is proud to share its passion with audiences everywhere with dance that speaks to the hopes and dreams inside each of us and I know these emotionally moving works will live long in your hearts," Artistic Director David LaHay said in the statement..
Perfect for date night, Ballet Kelowna will fill the Revelstoke Community Centre with passionate dance and music on Wednesday, March 14 at 7pm. Tickets are available at the Talisman Trading Company 250-837-6565 or the Revelstoke Arts Centre 250-814-9325.
For more information, please visit www.balletkelowna.ca.