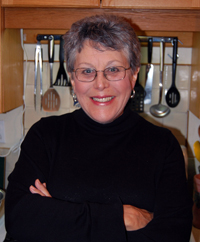 February is an odd food month. The root vegetables that seemed so richly earthy in October lose a little of their charm, but springtime with its promise of fresh local asparagus is still a few weeks away. We're still hungry from cold walks and days on the mountain, but for me at least, the need to shed winter pounds looms large in the mind.
One answer is to go bright and light. Cut down on white foods (carb-heavy dishes such as rice, potatoes and pasta) and substitute other veggies. Add colour, with peppers and squashes. Brighten flavours with fresh ginger, lemon or lime and hot peppers. We need visual stimulus as well as gastronomic, and a colourful supper that doesn't take too much time is a welcome menu addition.
This dish can use any sort of fish, filleted and deboned. Shrimp or scallops would also work well. I made it with cod fillets from the Orion Fish Truck. Don't use breaded anything, though, or the crumbs will go soggy. Make the spaghetti squash dish first — or start it — and then keep it warm in the oven until the last minute, when you add the fish or the shellfish.
You can if you need to make everything ahead of time and add the fish to a reheated pepper dish at the minute. The spaghetti squash will keep and can be reheated, but don't overdo it in a microwave or the strandy spaghetti quality will be lost and you've have plain old garlicky squash — not a disaster, but not quite as textured to eat.
Spaghetti Squash with Garlic and Jalapeõs
To serve 2 people
1 spaghetti squash
2 tbsp olive oil
3 large cloves garlic, minced
1 jalapeño pepper, seeded and minced
1 tbsp lime juice
salt and pepper
Cut the spaghetti squash in half and lay each half cut side down in a glass or ceramic baking dish with one inch of water. Nuke in the microwave for 10 minutes. Remove (carefully — it's hot) and cool in a sieve over the sink.
Sauté the garlic and pepper in the oil over medium heat for 5 minutes or until the kitchen fills with a lovely garlic smell.
Sculpt the squash strands out of the shells and put in a bowl. Separate strands with a fork, then add the hot oil, garlic and pepper. Mix well. Add salt and pepper to taste. Keep warm in the oven set to 175° F, while you finish off the peppers and fish.
Peppers and steamed fish
For 2 people
1 tbsp grated fresh ginger
2 tbsp olive oil
1 yellow or white onion
1 yellow pepper
1 yellow pepper
2 stalks celery
½ cup grape tomatoes
1 tbsp minced flatleaf parsley
1-2 tbsp lime juice
2 fish filets, or ¾ lb shrimp or scallops
½ tsp salt and ¼ tsp pepper
1. Cut up the veggies into any shapes you find attractive — about ½ inch slices for the peppers are attractive, and thin diagonal slices for the celery.  Cut the tomatoes in half if you have time — otherwise you can mash them in the pan with the back of a wooden spoon.
2. Heat the oil in a large skillet and sauté in it the onion, peppers, grated fresh ginger and the celery. Stir fry over medium heat until the onion is transparent and the peppers beginning to brown on the edges. Add the tomatoes. Cook 5 more minutes.
3. Lay the fish or shellfish on top of the veggies. Add the lime juice and salt. Cover with a lid, or if your pan doesn't have one, make a loose-fitting lid out of tin foil or parchment paper. Steam the fish for 2-3 minutes or until just done. Shrimps will be just turning pink and the fish should flake with a fork. Pan juices from the peppers and fish DO NOT OVERCOOK or the fish will be tough. Serve immediately.
To serve
On each plate, make a nest of the spaghetti squash. Into the centre, pile the fish and pepper mixture. Sprinkle fresh minced parsley on top. Serve with additional lime wedges.