A toast to kitchen staff, everywhere, and three things to do with leftover hamburger meat when you are absolutely frazzled: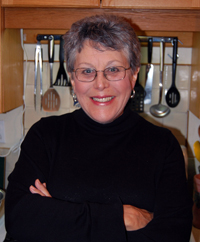 Mexicana crepes
Hamburger pizza
Sloppy Giovannis on a Baked Potato with Greens and Homemade Easy Low-cal Yogurt Dressing
In the 2006 Canadian census, 25 million Canadians over age 15 reported income from full or part-time work. Of these, well over half a million worked as chefs, cooks or front line staff I the food service industries.
The only sectors employing more people overall than food services are transportation (truck drivers,) education, retail sales and the natural and applied sciences (lab techs and engineers), according to Stats Canada. Food services is the fifth largest employment sector in Canada.
The very successful Carousel of Nations at the Revelstoke Community Centre on February 4 gave me the chance, for several weeks and two hectic afternoons, to join this group of people who serve food to millions of people in Canada, every day. Savage Delights sold empanadas colombianas at the food fair between 4 and 7 pm at the international food fair. For weeks beforehand I worked at what might be rather ambitiously termed the job of the executive chef, working out recipes and quantities for an anticipated crowd of 600 who would divide their food tickets between seven or eight vendors.
We sold over 100 plates. I paid a helper and took my "staff" out to dinner and myself to lunch, leaving a small profit. Better than a poke in the eye, as they say, and I wasn't really doing it for the money. We could have sold 150 plates, but we ran out because a) I hadn't bought enough flour and b) making 275 empanadas in one day is pretty much my limit.  And no, they can't be frozen, I tried and they were not the same.
Then there was a day of food shopping, including a trip to Vernon to acquire the right corn flour for the empanada shells. Add three days over two weeks of trying out recipes. Add two days at the community centre, with two friends helping make the empanadas, and one late evening to after the show at the art gallery to pre-cook them.
The day of the event I was in the community centre kitchen from 9 am until 7 pm, making the salsa, chopping fruit and then hanging over two pots of oil at 350F, sizzling the empanadas for a line-up that seemed never-ending. My helpers got frazzled over putting slices of mango, orange and lime and tiny buckets of the aji salsa on the plates ("Use the tongs!" "They don't bloody well work!" "Look you can't use your fingers!" "Have to, anything else is too slow,") while in the kitchen I was shimmying between four or five different groups all trying to cook enough to keep the line-ups down to 6-10 people.
Take it from me: this is one tough line of work. The people who serve in restaurants deserve our undying gratitude. We usually take for granted the existence of a quite delightful variety of restaurants in Revelstoke. In the days after the empanada blitz, (when I couldn't face the stove or the sink — of course chefs eat out a lot) we had Indian food at Pam's Kitchen, Japanese food at Frisby Ridge, hamburgers from Nomad's and a delightful soup and salad Sunday lunch at Main Street Café. (There go my vast profits.)
I will never again eat in a restaurant without a heightened awareness of the grueling toil of the staff, from chef to waiter to cashier, who put so much effort into preparing menus, acquiring food, planning the kitchen, cooking and serving food. My own efforts, as a teenager, to get a job as a waitress, proved futile. Memory:  restaurant manager looks my skinny bespectacled self up and down and tells me to go back to school.
We don't need Stats Canada — just our eyes — to tell us that a majority of fast food workers must add significant numbers to the over 1 million Canadians aged 15 to 19 who work. Opinion about this statistic is divided. Some people welcome the chance for kids in high school to earn some money. Others deplore the practice: easy money in restaurants, they say, where tips provide immediate income, is a negative in terms of keeping teenagers in school for as long as possible, thus improving their chances of joining the ranks of high earners who statistically tend to have higher levels of education than those with low income.
One thing for sure: the food industries need the stamina of the young. Two days of 12+ hours food prep left my legs and back aching and my head reeling.  And of course, lots of young people come to this realization themselves.
A young woman I'll call Sylvia comes to mind. Sylvia was in a college legal aid program I taught in, a few years ago. She confided in me that she was a single mother of two with a history of broken relationships and twenty years experience in food. At age 35, she was racking up student debt in order to support herself and her children while she tried to move beyond minimum wage jobs in the food industry. "What were my teachers and parents thinking of, when I was 14, letting me go to work at the golden arch and skipping Grade 9 English!" she asked me, as we corrected the pronoun agreements in her report.
For a riveting tale about life in the food industries, read Gabrielle Hamilton's Blood, Bones and Butter: The Inadvertent Education of a Reluctant Chef (Barnes and Noble). The owner-operator and chief line cook at Prune, one of New York's East Village best known bistro-restaurants, Hamilton writes an amazing tale of learning to cook when she was 13 to support herself. After a few years of illegal employment that ended with her arrest in a tip scam and the subsequent indictment of her employer for hiring underage workers in a bar, she went on to work in New York's catering business — an eye opener if you're planning a wedding in New York! — and eventually opened her own place. The book is hilarious, sad, informative and endlessly interesting.
So: next time you're out for dinner, raise a glass to the chefs and the kitchen staff, the franchise managers, restaurant owners, the line cooks, bussers and the fast food servers. They're all, even the owners, very likely overworked and underpaid, and it's a total  miracle they can be civil let alone offer the smiles and gracious welcomes we have come to expect, and mostly receive. Here's to them, each and every one!
In the meantime, here are… Three plans for leftover ground beef
Crepes mexicana
Pre-heat oven to 350° F.
Crepes are just thin pancakes without baking powder.
2 eggs
1 cup millk
½ cup flour
Beat well.
Divide into 4. Melt a tablespoon of butter in a large very clean skillet or fry pan. When it is brown and bubbly, pour in 1/2 cup of batter. Swirl around a little. When it solidifies, in about 1 minute, flip with pancake turner. Cook on flip side for 1 minute. Put this onto a piece of waxed paper on a plate. Do this 4 times. You will have 4 crepes.
Fill each crepe with ½ to ¾ cup of ground beef or empanada mix (see last week's recipe.)
Put into a baking dish 9 x 12 inches, underscored by a little oil or butter and a few tablespoons of tomato sauce. Actually you can put any filling at into these crepes. Ricotta cheese, chopped and drained spinach and parmesan is the Italian version.
Do this with all 4 crepes. Top with a little more tomato sauce and some slices of cheese: provolone or mozzarella, jack cheese or cheddar. If you want fancy, get hold of some good goat cheese and add that. Bake until the cheese is melted and browning, about 30 minutes.
Hamburger pizza
Put leftover cooked ground beef or empanada meat into the tomato sauce for homemade pizza, or sprinkle it around on top of any pizza that you're baking or reheating. Some cheese bits on top are good too.
Sloppy Giovannis on Baked Potato
For 4 people
Preheat oven to 400° F.
Bake one potato per person in oven for 1 hour.
Mix together in a wide deep skillet
1 tbsp olive oil
1 cup hamburger meat (cooked or not.  If uncooked, increase cook time to 30 minutes)
½ cup fried onions
1 tin diced tomatoes or 6 chopped fresh tomatoes
½ tsp cumin
1 tsp chili powder
1 tsp oregano
1 tsp sugar
1 tbsp Maletti Balsamic vinegar.
Stir and cook for 15 minutes. Add red pepper hot flakes if desired.
Ladle this over a baked potato cut in half and mushed up a little. Add if you have some a dollop of cream cheese or sour cream, but the dish is fine without. Add parmesan petals (make your own with a vegetable parer and a hunk of parmesan or buy these in packages at the deli counter) or grated romano cheese. With salad, this makes a decent supper. I like the salad with yogurt dressing, a substitute for ranch:
Easy Non-fat Yogurt Salad Dressing
1 cup plain preferably Balkan-style low fat yogurt
juice of ½ a large lemon
handful of basil leaves, minced
salt and pepper to taste
1 tsp honey
1 tsp Dijon mustard
Shake well in a jar with tight-fitting lid, or whisk in a small bowl.
Drizzle this over some lettuce, cabbage, fennel, radicchio, arugula or baby spinach leaves. Add a handful of craisins for colour and/or toasted pumpkin seeds (in a skillet over lowest heat for five minutes) for crunch.