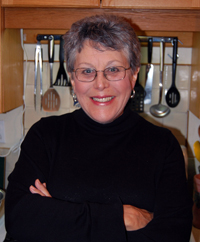 Cold weather sharpens the appetite for carbs and also the craving and need for fruits that ward off colds and flu. Cranberries, a fruit native to North America (others are blueberries, pumpkins ands squash, some grapes), contains flavenoids that according to many studies help fight infection. Apricots, featured in the Morning Glory Muffin recipe, contain Vitamins A and C, as well as minor amounts of calcium and iron. Walnuts are said to have more omega 3 fatty acids — the ones that are good for you — than other nuts. Both recipes call for grated apple — I used one apple and one unripe pear in the upside-down cake, and the muffins also contain carrots and coconut — great use for "bottom-of-the-barrel" apples you might otherwise chuck. A plus: one tin of pineapple stretches to cover both these recipes. If you're more than a purist than I am, use a cup of mulched fresh pineapple.
My mother used to make pineapple upside-down cake back in the 1960s. Before Dole started to export pineapples all over the world, this was our one and only pineapple sighting. When I finally visited Maui for the first time, what a revelation it was to eat, on the porch of the LaHaina Hotel, fresh pineapple pancakes. Along with our kids, I couldn't get enough of that fresh-from-the-hills succulence of a pineapple picked that morning. Well, almost. Slices of fresh pineapple could be substituted or added to the upside-down topping in the cake below.
These recipes for a scrumptious upside-down cake and morning glory muffins are from Cathy, our friend in Sarnia who bakes and bakes and bakes. I tried them out several times, once disastrously as I didn't leave the cake in the oven long enough, and cut the muffin recipe in half but forgot to cut the sugar. Cathy makes BIG desserts! And I have halved her recipes; I've also used less sugar and a little less fat than she calls for. A new trick she's taught me: you can use oil and avoid the cholesterol of butter, in baking these items, but keep the butter flavour by using Wilton's Butter Flavour. You only need a little to replicate amazingly the flavour and aroma of real butter.
Both the cake and the muffins keep well in the fridge. You can warm them in the micro for 10 seconds only. I haven't frozen them; if you do, let me know how it works.
Cranberry Upside-down Cake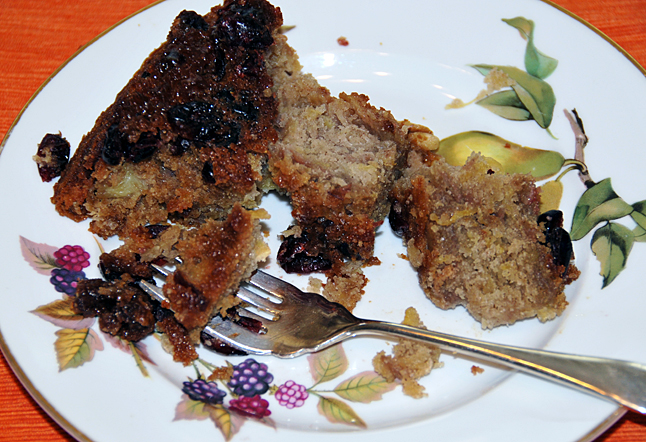 An upside-down cake is a glorious way to make a cake—the work is all done at the start, and there's no frosting needed. You create a topping on the bottom of the pan, with butter, sugar and fruit, then when it's out of the oven you invert it onto a cake plate and presto, ready to serve. You can substitute apple slices, peaches, pears, raisins, apricots — any dried berry or stone fruit — for the cranberries.
1 ½ cups all-purpose flour
1 cup sugar
1 tsp baking soda
1 tsp salt
1 tsp cinnamon
2 eggs, beaten
1/3 cup vegetable oil (canola, peanut or sunflower)
1 cup crushed pineapple (with juice)
1 cup grated apple
1 ½ tsp vanilla
1 tsp Wilton's Butter Flavour (available at Chantilly)
½ cup butter
¼  cup brown sugar
1 ¼ cups dried cranberries
½ cup orange juice
Preheat oven to 350° F.
Soak the dried cranberries in the ½ cup or orange juice in a small saucepan; these can soak for an hour, or, if you are pressed for time, simmer over low heat until the orange juice has evaporated and been soaked up by the cranberries. (If you use pineapple chunks or other fresh fruit, omit this step.
Prepare a nine-inch round cake tin with straight vertical sides by smearing the ½ cup of butter all over the bottom, thickly. Use a little butter to grease the sides of the pan too but leave most of it on the bottom.
In a large mixing bowl, combine the flour, sugar, baking soda, salt and cinnamon.
In another bowl, mix together the eggs, oil, vanilla, and butter flavour.
Stir the wet ingredients into the dry and mix until ingredients are well moistened, but do not beat. Stir in the crushed pineapple and the grated apple.
Spread the moistened cranberries in the pan on top of the butter-sugar coating, and then spoon the batter into the pan.
Bake at 350° F for 45 minutes or until a toothpick inserted into the cake comes out clean. If you have to leave the cake in the oven longer than this to get it fully cooked, put a "bain-marie" under it — that is, set the cake tin in a larger pan containing one inch of boiling water, so that the fruit/sugar on the bottom won't burn.
Two minutes after the cake is out of the oven, take a large cake plate, turn it upside down over the cake top, and invert the whole thing so that the plate is on the bottom and the cake tin with bottom side up is on top. Gently jiggle the cake tin until the cake comes out. You may wish to cut around the sides with a knife before the inversion process, but I found with sufficient butter this isn't necessary.
Serve plain or with — for a wow! Dessert — some caramel or bitter almond ice-cream.
Morning Glory Muffins
With apple, eggs, grain, carrots, stone fruit and nuts, these muffins are the porridge-haters' answer to breakfast. My spouse told me when I first made these that they aren't really M.G. muffins — his all-time favorite — because they lack dates. I guess. Despite overkill being generally under-rated, in this instance I think dates might be over the top. If you like a richer muffin, however… When I used double the oil and double the sugar, the muffins were so rich the baking soda proved ineffective against gravity and they were delicious but flat on top and soggy throughout. I like the less sweet and less gooey version below. And with so much "substance" in the dough, I upped the baking soda to three tsp to ensure a rise.
You need a muffin tin and some muffin papers for this.
Preheat the oven to 350° F.
Set the muffin papers in the muffin tin.
2 cups flour
½ cup brown sugar
3 tsp baking soda
2 tsp cinnamon
½ tsp salt
2 eggs
½ cup vegetable oil
2 tsp vanilla
1 cup grated carrots
½ cup raisins or dried cranberries or currants, soaked in
½ cup fresh orange juice
½ tin crushed pineapple with juice (scant 1 cup)
½ cup chopped walnuts
½ cup shredded coconut
½ cup chopped dried but not dessicated apricots
1 tbsp orange zest
1 apple, grated
Grate the apple and the carrots.
Mix together the dry ingredients: flour, brown sugar, baking soda, salt.
Mix together the eggs, oil and vanilla. Add the crushed pineapple.
Mix the dry and wet ingredients together.
Add the fruits and nuts, coconut and the apple.
Spoon into twelve muffin cups. They will be pretty much full.
Bake at 350° for 35 minutes. Test for doneness with a toothpick. Don't overbake, however.