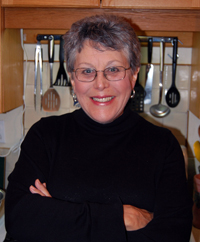 Roast Turkey with Mushroom Red Wine Gravy and Cranberry Sausage Stuffing
OR
Roulades of Chicken Breast with Sausage Cranberry Stuffing and Cider Sauce
Creamed Leeks
Oven Roasted Butternut Squash and Turnip
I love Christmas in Revelstoke. The lights on our street are spectacular, carolers actually come round singing, and people smile at one another on the street. And of course there's the food.
My grandmothers' near-Victorian ideas of Christmas dinner was a large roasted bird PLUS a ham, mashed spuds, carrots, peas, parsnips, stuffing, a tray of olives and celery and radishes, fresh rolls, gravy, and then, groaningly, dessert — pumpkin pie, in our family, as well as plum pudding with both hard sauce and brandy sauce, as well as mince tarts and shortbread. How did we ever get up afterwards?
These days, though, not everyone has the time or inclination to cook a whole bird, and in some ways, it would be pleasant to do the prep ahead, eat more sparingly, and be free of leftovers the next day.
So my recipes for Christmas dinner this year honour those who are single,  who cook for two or three,  or who get together with one or two friends for a meal that is robust with Christmas flavours but doesn't involve wondering what to do with the wing tips the next day.
Also included are directions for cooking a whole bird. Both options require some planning, but the chicken breasts could be stuffed and rolled a day ahead and refrigerated overnight. The stuffing too can be made ahead and refrigerated — but be sure to take it out of the fridge about two hours before using it.
Neither dinner is trouble free — making the roulades is a little fussy but it's fun and wonderfully satisfying.  You need some plain cotton twine — don't use nylon or anything else that might melt in the oven. The cider sauce is really wonderful. However, if you want a richer version, use the recipe for mushroom and red wine gravy following the whole roast turkey instructions. The stuffing is good for either a whole bird or the roulades.
The veggies here — creamed leeks and roasted butternut squash and turnip — will go well with either dinner. Toni Johnson and Tanis Rebbetoy were my test guests for the roulades dinner and both loved the creamed leeks — easier than peeling all those little onions, more colourful and easier to eat, than creamed onions.
Roulade of Chicken or Turkey Breast with Cider Sauce
Sausage and Cranberry Stuffing
Creamed Leeks
Oven Roasted Butternut Squash for 4
The Chicken Roulade with cider sauce is adapted from Gourmet Magazine, November, 2006, where it's made with turkey. Either work well for a holiday dinner when you want the flavours of Christmas. In November when I tested this recipe, turkey breasts were unavailable, so I used chicken. It was great.
Three steps: you make the stuffing, then the roulades, then the cider sauce. While the meat is roasting, you pour on some of the cider; when it's cooked, you use a little more cider to complete the sauce. If you want to use turkey breasts and make red wine gravy, substitute turkey for the chicken, and red wine for the cider.
You could use any stuffing you like, but I found this one, with cranberries, adds the sweetness to the meat that we associate with holiday fare. The absence of strong herbs such as sage (the traditional turkey companion) allows the other flavours to shine.
To keep the roulades from drying out during cooking — it's best to use breasts with skin on, but sometimes these are not available—protect them with slices of orange. These will brown up in the oven, and can be an attractive serving option. Alternatively, you could lay strips of bacon across the breasts, especially if you are using turkey—I think the bacon is too strong a flavour for the chicken breasts, but they would keep the meat succulent. For the stuffing, I used the honey garlic sausages from Ray the Butcher—the wonderful flavour adds real depth to the flavour.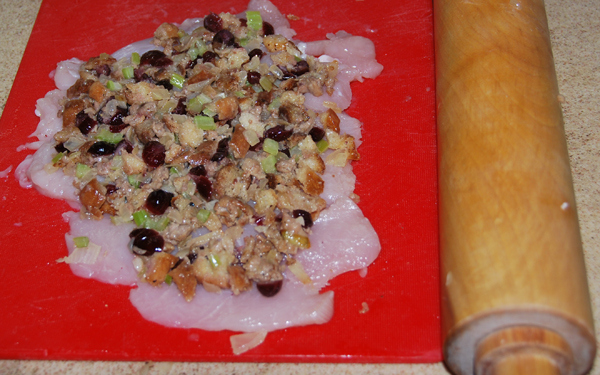 Equipment
• a mallet or rolling pin or wine bottle
• kitchen cotton twine
• a sharp knife
•  a shallow heavy baking pan or small roasting pan (the one that comes with stoves is good)
Stuffing
If you are cooking a whole turkey for 15-20, triple these quantities.
TIP: the quality of the stuffing depends on the quality of the bread crumbs. I like a real baguette. Olive bread would be sensational, as would cranberry/walnut artisan bread.  Avoid pre-packaged croutons, which apart from being highly seasoned with sage, are treated with preservatives. Quickie croutons from a bakery are a good choice.
2 cups white or other bread, diced
1 cup dried cranberries
½ cup water
½ cup diced celery
½ cup finely chopped onion
½ lb. Ray's honey garlic sausage-2 large sausages.
2 tsp fresh oregano
1 ½ tsp salt
¾ tsp black pepper
¼ cup unsalted butter
1 egg, well beaten
¼ cup whole milk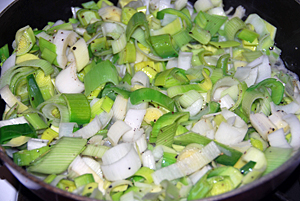 Toast the diced bread in the oven set to 250° F for 20 minutes or until crisp but not brown. Melt the butter in the micro and add it to the bread crumbs, using a large bowl.
Soak the dried cranberries in ½ cup water in a pot on the stove, allowing the water to boil; then turn it off and let the cranberries sit for 20 minutes or until all the water is absorbed.
Use a little of the butter to sauté the celery and onion. Add the oregano and the salt and pepper. Put these, with the bread crumbs and the cranberries, into a large bowl.  Add the egg, well beaten, and the milk.
Any stuffing not used up in the roulades or stuffed into the bird can be baked in a separate dish, covered with foil. Some people bake all the stuffing outside the bird—cramming a few lemons and oranges, cut, into the cavities for shape and flavour. You do have to make sure, in a big roasted bird, that the stuffing is well cooked, as it will contain the juices from the fowl, and these need to be thoroughly cooked. Use a meat thermometer and get it up to 165° F in the inside of the stuffed cavity.
The Roulades of Breast of Turkey or Chicken
1 turkey or 3-4 chicken breasts
½ cup dry white wine
1/3 cup soy sauce
1 ¼ cups cider
1 tbsp cornstarch
2 oranges, sliced and seeded
Use whole breasts for chicken, but for turkey, cut the breast in half.
Skin and defat the breasts. Lay each one on a chopping board on top of a piece of waxed paper. Cover with another piece of waxed paper. Using a mallet, a rolling pin, a wine bottle or the handle of a cleaver, pound the breasts between the paper. You will see the meat thin out. You may have to use some care as you try to create a flat piece of meat, more or less of equal thickness throughout.
Place the pounded and flattened meat on another piece of waxed paper (the first two will be munched by now.) Spread a layer of dressing on top; roll up tightly. Secure with butcher twine, making a neat parcel of each breast with three crosswise rounds, each secured with a knot.  Place seam side down on a greased baking pan with shallow sides. Cover each breast with 3-4 slices of orange.
Roast in a preheated oven (450° F) for 20 minutes. Then pour the wine, 1 cup of the cider, and the soy sauce over the meat. Continue to roast for another 30-40 minutes, or until a meat thermometer registers 170° F. Remove from oven.  Put the turkey breasts on a serving platter, cover with foil and keep warm.
Pour the juices from the pan, deglazed if necessary with a few tablespoons white wine, into a small saucepan. If you want perfectly smooth sauce, put through a sieve before you put it into the saucepan. In a small bowl, stir the cornstarch into 2 tbsp of the juices until smooth. Add this back into the pan, whisking to keep lumps from forming. Heat over medium flame until hot, then add the rest of the cider. Season with salt and pepper. If you keep whisking, the sauce will be smooth. If too thick, add a little more water or white wine.
To serve, slice into ¾ inch rounds, and remove the strings once the roulade is on the plate. It will stay somewhat rolled up, if you are gentle with it.
Creamed Leeks
3 lb leeks
2 cups Panko or fresh bread crumbs, medium fine and toasted crisp
¼ tsp salt
a liberal grating of fresh ground black pepper
6 tbsp unsalted butter
1 cup heavy cream
Trim the leeks of their root and the leafy green part, leaving about 8 inches of stalk. Wash this, then slice slightly on the diagonal into rounds that are just under 1 cm thick. Put all these into a big bowl of clean water and swish about, then drain. Leeks are often very sandy, and you must get rid of the earth. Drain well.
Put 3 tbsp butter into a large skillet over medium heat. When butter is melted, add the bread crumbs and toast these in the butter until they just begin to turn brown. Remove from the skillet.
Put the remaining butter in the skillet, heat, and add the leeks. Sauté for about twelve minutes, under partial cover most of the time. (Use a piece of tin foil or parchment paper if your skillet doesn't have a lid. Cut the paper to fit the pan.) If the leeks begin to stick or get too brown, turn down the heat and add a few tablespoons of water to the skillet. Add salt and pepper.
Once the leeks are mostly cooked, spoon them into a buttered baking dish about 9" square, preferably a gratin dish that you can serve from, as these are very pretty when they come out of the oven. Pour the cream over the leeks, and sprinkle the breadcrumbs over the top. Bake for 20 minutes in a 350° F oven.
You can prepare the leeks and cream the day before. Then before you eat, remove from the fridge 1 hour before bake time, sprinkle the crumbs and bake.
Roasted Butternut Squash and Turnip
2 cups diced butternut squash
2 cups diced turnip
4 tbsp olive oil
2 tbsp good balsamic (Maletti, chili fig, or star apple)
2 tsp fresh thyme
salt and pepper
Peel and dice the squash and turnip.
Toss in a large bowl with 3 tbsp olive oil. Add the balsamic vinegar, thyme, and salt and pepper, and toss more.
Drizzle 1 tbsp olive oil into a large heavy shallow baking pan with edges  and add the diced veg. Roast at 400° F for 50-60 minutes, turning every ten minutes. Poke with a fork to determine doneness — the squash and turnip should be browning and even a little black-edged on some sides, but not all over.
Roast Whole Turkey with Oregano Rub, Cranberry Sausage Stuffing and Mushroom Red Wine Gravy
Use stuffing from the Chicken Roulade recipe.
Equipment:
• turkey roaster pan
• grill with handles
• turkey baster
• platter for serving turkey
• skewers or a large darning needle and string
• skillet for mushrooms
• saucepan for giblets
• gravy boat or jug
• good carving knife
Oregano Rub
Mix ¼ cup soft butter with 2 tsp oregano, 1 tbsp lemon zest and 1 tsp salt plus ½ tsp black pepper.
Prep the turkey with the rub
Wash turkey well inside and out in lukewarm water. If you must delay stuffing and roasting, fill the cavities with ice cubes and put the turkey in the fridge or in a bath of ice water. Before stuffing, drain well and dry with paper towel or an old clean dishcloth. Salt insides.  Reserve giblets for gravy stock. (Simmer them in 1 cup water for 30 minutes.)
To apply the rub, lift up the skin on the turkey from the cavities (you may have to cut with a small knife, sharp side away from skin) and slide your fingers under the skin, pressing down on the meat to gently loosen the connective tissue between skin and meat. Then scoop some of the rub in your fingers and massage it into the meat from the thigh right up to the top of the breasts, on each side of the turkey.
Stuff the turkey
Gently spoon into both cavities enough stuffing to just fill the bird. Overstuffing results in a messy-looking bird. Close the seams with string on a needle or with short metal skewers. Truss the bird to keep it neat: take a piece of cotton string about a meter long. Tie one end to the end of the leg. Wrap the string around the bird diagonally, end to end, tucking the wings under and ending up with the second leg.
Paint with butter or oil
To ensure a golden glaze on the skin, melt 2 tbsp butter (nuke butter for 20 seconds) and paint it all over the skin using a pastry brush. Grind some pepper over the top, and a sprinkle of coarse salt. (White pepper avoids the little dark spots, if they bother you as they did Julia Child.)
Roast and baste the turkey
Sit turkey on a rack in roasting pan at least 2" deep. A grill with handles to remove the turkey from the pan is a useful tool.
Roast at 325° F for  22 minutes per pound, basting every 20 minutes with pan juices. Use a meat thermometer to check temperatures: 170° F in breast and 180° F in breast are temperatures recommended. Stuffing should register 165° F. When done, remove from oven and let sit ½ hour before carving, covered with tin foil. 
Mushroom and Red Wine Gravy
1 lb mushrooms, cleaned, sliced, and sautéd in 3 tbsp butter until brown
2 cups good red wine
1 cup broth from cooking turkey giblets
cooking juices from the turkey
salt and pepper
Remove turkey and grill from roasting pan. Use the baster to remove excess fat. Stir in 1 heaping tbsp flour, and whisk into the juices over low heat. Add the broth reserved from cooking the giblets, and add 1 dry cup red wine. Stir all the time with whisk or wooden spoon until perfectly smooth. Be sure to get all the brown bits up from the bottom of the pan—these add flavour and colour to the gravy. Keep whisking until smooth, or strain before you add the mushrooms. If needed, thin with more red wine, and then bring to a fast boil and remove from the heat, stirring all the time. Add salt and pepper to taste – about 1 tsp each.
Additions to the gravy: add any or all of these:
• the giblets, diced into mince (2 mm cubes)
• 1 tbsp each parsley and fresh thyme, minced powdery fine
A jigger of brandy at the very end adds that je ne sais quoi, but personally I'm pretty much beyond managing it at this point, and just want to get the bird to the table while everything is hot.