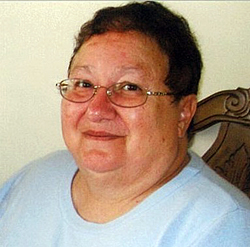 Aurora Maria Angelozzi passed away at Queen Victoria Hospital, Revelstoke on Thursday, December 8, 2011, at the age of 66 years.  Prayers will be recited from St. Francis of Assisi Catholic Church on Sunday evening, December 11 at 7:00 p.m., followed by the Mass of Christian Burial on Monday morning, December 12 at 10:30 a.m. with Father Cecil Nunez celebrant.  Pallbearers will be: Jack Heavenor, Luigi Fuscaldo, Mike Bafaro, Cesare Bafaro, Joe Iaccino, Dino D'Ulisse and Anthony Donato.  Honorary pallbearers will be Jack Carten and Domenic Donato.  Interment will follow in the family plot of Mountain View Cemetery, Revelstoke.  In lieu of flowers, memorial contributions may be made to a Memorial Bench Fund c/o City of Revelstoke, Box 170, Revelstoke, B.C. V0E 2S0, in memory of Aurora.
Aurora was born in Spezzano, Piccolo, Italy on May 4, 1945, and had been a resident of Revelstoke since 1966.  Aurora & Vince owned and operated Stedman's and Vince's Groceteria for many years.  She loved cooking and socializing.  Aurora was very strong in her faith and very dedicated to her church.  Aurora's pride in joy in life were her grandchildren and she adored every one of them.
Aurora was predeceased by her parents, three sisters: Marietta Fuscaldo, Susie Bafaro and Lilliana Scarcelli, and an infant brother Michele.  She is survived by her husband of 46 years, Vince of Revelstoke; three children: Lena (Glen) Sampson of Revelstoke, Camillo (Cindy) Angelozzi of Port Coquitlam and Marcello (Llonda) Angelozzi of Revelstoke; six grandchildren:  Kaitlyn, Justin, Jacob, Carmen, Lucas and Caden; brother-in-law Cesare Bafaro of Revelstoke; numerous nieces and nephews, great nieces and nephews and cousins and her good friend Anne Heavenor.
Arrangements are in the care of Brandon Bowers Funeral Home, Revelstoke.