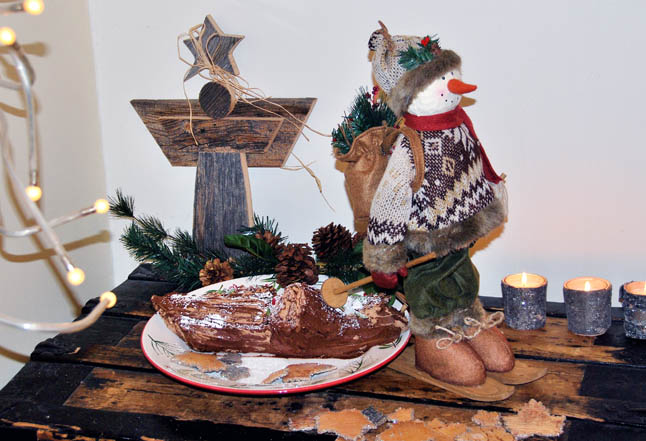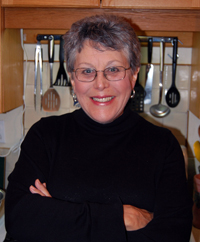 Thirty years ago, several things prevented me from buying kitchen equipment. Rationalizing a lack of cash with reverse snobbery, I developed a philosophy that had me convinced that if my grandmother did without it, so could I.
As well, it seemed the kitchen design elves of yesteryear were frozen by the White Queen. For years, there just weren't many new items around. Sure, one could order French copper-bottomed pots from those small ads in The New Yorker, but Chinese ceramic bowls and bamboo steamers paraded as avant garde in my small gastronomic world.
Not so in the new millenium. From tongs to eggies, new materials and marvelous designs combine to make kitchen shopping an experience that widens one's horizons. I am a total sucker for silicone, and my collection of graters and whisks is growing—I adore both these items—so many tasks made so much easier. And mini spatulas! Today's kitchen gurus honour the notion that cooking real food enhances our physical and emotional health and endorse a philosophy that makes a pleasure of the necessary hours someone spends cooking.
Revelstoke cookware is to be had mainly at Chantilly Kitchen Bed and Bath. Also stocking cuisine gear are Home Hardware, Cooper's, the Bargain Shop, the Dollar Store, Field's and of course the thrift shops—the hospital auxiliary shop and the thrift shop at St. Peter's Anglican Church. You do not need to go out of town to buy for the cook.
Food items—always prized by gastronomic adventurers—can be found not only at Cooper's and Southside Grocery, but also at Crescendo, Chantilly, the Revelstoke Museum, La Baguette, and Ray the Butcher (a package of frozen steaks makes a grand gift, for instance, but do keep it in the freezer and write a gift card for the tree.) A gift of future wine or beer from the U-Brew will be enjoyed for months
Don't forget books. Both Grizzley Books and Gwen's second-hand Castle Joe Books on 2nd offer cookbooks galore.
Stocking Stuffers under $8
If you're like me, you tend to be so dazzled by the stock pots, wingy martini glasses and the cappuccino promise of coffee machines that you forget to look at the little things. So here are some ideas.
Stocking stuffers and party prezzies for small prices range from practical to quirky. At the bottom end of the price scale (5 items for $10) are items from Chantilly that I've used and used: a butter measure at $1.75 and the cake tester for $1.32. The one I really love, the silicone last drop spatula, costs a big $3.29.
Bakers can always use different cookie cutters, as little as $1 at Chantilly. Next are skewers for the turkey, $2.29 just about everywhere, and bottle stoppers at $1.75 each. Chantilly also has potato bake rods for just over a dollar. A small plastic sieve has multiple uses, e.g., getting coffee grounds out of the mug if you err in coffee technique, $1.69 at Home Hardware. More coffee help with eco sleeves and eco lids, $3.29 at Chantilly, both of that nice pliable silicone that lasts forever, and in spritzy colours. A Paderno square baking dish perfect for one or two people, on sale for $3.95 at Chantilly. Get three or four for a larger family.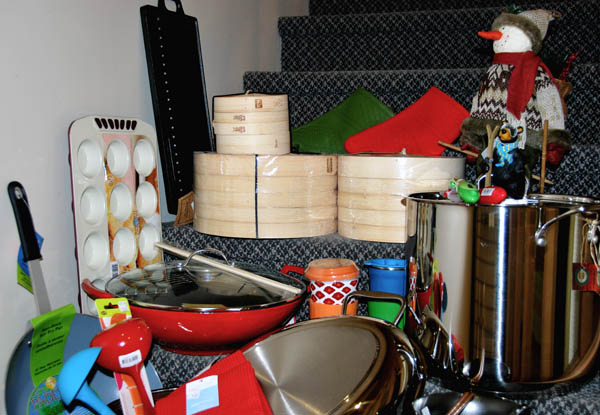 More silicone in the tie wraps that Home Hardware's shelves offer at $4.29, and in their whippy silicone brushes (red, blue, yellow) at $5.99. On the wrap topic, bag clips at $3.00 per one large or two small are a winner at Cooper's.
Stickies are never a mistake for the cook—packs of them at the new stationery store on First East next door to Crescendo. Different sorts of stick that I can't live without are candle Stickum gum, $2.75 at Chantilly, and its companion Flower Fix, $1.99.
For the wine lovers in your crowd, consider pewter wine labels for $5 each at Evolve, the new gift shop at the corner of First and MacKenzie, or their bottle stoppers at $10. They also have a very attractive reindeer opener (beer) in metal, for $27, and a gloriously camp red ceramic high heel—see photo—wine bottle holder for $33. Evolve's Christmas fridge magnets for $4 each are neat too.
Food items turn up in the most amazing places. The Revelstoke Museum has a terrific gift shop. Cathy English, the Curator and creator of the Thursday Brown Bag History Lunch, loves the Murchies teas and now she stocks them. A ten bag pack goes for $3.95, Murchies Hot Chocolate for $7.95 and spice grinders and rubs for $6.00. Gourmet mustards, vinaigrettes and sauces start at $6.75.
For another set of useful gifts visit La Baguette, where my own favorite Maldon Salt can be had for less than it costs in Toronto ("Always finish the dish with quality salt," Trish Magwood of Dish is known to have said to her cooking classes.") =
Finally in the under $8 category is the ceramic lemon/lime zester like the one my mother gave me years ago. Chantilly.
Gift ideas under $35
In the $15-25 range, going another ten for something REALLY good is okay, as long as it's more than whimsical. For practicality, consider these:
• 6 sauce cups for melted butter or dipping sauce, stainless. $13.86 at Chantilly
• song bird paper towel holder. Metal. Home Hardware, $22.99
• cooking twine $14.85, at Chantilly
• eco sleeves and eco lids for coffee cups, $3.29 each, Chantilly
• turkey lifter, metal, black, Cooper's for $11.49
• oven thermometer, essential for the baker, as oven thermostats are so often unreliable. $16.29 at Chantilly
• the last oven mitts you'll ever need. Silicone. $19.95, Chantilly
• maple crumbs. Fantastic on ice cream, carrots, apple pie topping. Revelstoke City Museum, $11.25
• Grip'n'Grab reacher. A find for those who want to prevent a parent from climbing on kitchen chairs . $29.95 at Home Hardware
• microwave rice cooker. Fantastic gizmo, I've tried it.  2 cups rice in 12 minutes. Cooper's, $14.95.
• Star Forest Balsam with a bottle of Champagne (liquor stores)  for New Year's. One of many Crescendo products worthy of holiday or anytime gifting. Most for under $20 per 100 ml.
• martini glasses, $10.95 each, gorgeous for a couple. Chantilly.
• Paderno cutlery. Buy of the season, reduced by more than half to $34.95 for four 5-piece sets, Chantilly.
• Paderno, another great buy: the rectangular roaster with grill, $34.99 at Chantilly.
• and bamboo steamers, three sizes starting at $18, Chantilly.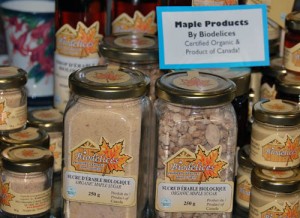 $40-140 items
The serious prezzie. Lots to choose from. Among the appliances on offer, a slow cooker for $77.99 at Chantilly competes with the Paderno roasting pan, a glorious thing of stainless steel with a big reversible lid for gravy-making, and handled skewed to the side so they fit in the oven. It's gorgeous. $99.99.  Another is the ceramic coated non-stick Zwilling fry pan at $120. Chantilly.
An unusual gift for the gardener-cook is the Amici Aromatic Infusion Jar, with  spigot, for oils or vinegars, made of recycled glass, at Home Hardware for $79.99.
Coffeemakers are in, and are usually upwards are $300, but Chantilly has a little Kienna Suncafe model, made in Calgary, that uses pods to brew one cup at a time, for $134.99.
This price range has all manner of appliances. Do some research before buying the cook one of these—some people have definite ideas about which brand they prefer and which features.
Over $150
If you're looking in this range you'll find many options. Chantilly stocks the Cuisinart espresso maker ($359) and the same brand's stand mixer, with its very powerful motor and multifunction attachments, at $449. It can juice, blend,  make sausage, grind meat, and make pasta.
Down the street, City Furniture has a deal on Kitchen Aid mixers, red or stainless only at the unbeatable price of $199—Dimpy got in on a special.
And just in case you're on the hunt for a new high end stove, City has a Kitchen Aid 36" dual fuel Pro model that usually retails just under $7000, for $5299. That doesn't include the propane conversion kit, but at that point, who's arguing?
YULE LOG RECIPE
There's no flour in this recipe, so it's gluten free. Not free of dairy, though—it's essentially eggs and cream and chocolate.
This is the dessert for the ESL and Literacy Christmas party and cooking class, December 4, at St. Peter's Anglican Church. It's from The Gourmet Cookbook 2004. I tried several other chiffon cake recipes trying to find one that used the eggs whole. Three yule logs later, I returned to this favorite recipe. You may remember it from last February when I wrote it up as a valentine special. Here you ice it like a winter log and decorate with gumdrops. Meringue mushrooms are the standard decorative touch, but this is a 3-hour class, and I didn't think we'd have time to do the mushrooms.
Equipment: One 10" X 15" baking sheet with sides
Preheat oven to 350 F.
Butter baking tin, line with parchment  or waxed paper and butter the paper.
For the cake:
7 oz. bittersweet chocolate
6 large eggs, separated into yolks and whites
2/3 cups white sugar
1 tsp vanilla
1/4 tsp cream of tartar
Melt the chocolate in the microwave in a ceramic bowl, using medium
power and doing only 30 seconds at a time. be careful not to burn it.
Separate the eggs. Use an electric mixer to beat the egg yolks with 1/3 cup of sugar until they are like thick whipping cream. Add the melted and cooled chocolate and vanilla.
In a new bowl with clean beaters, beat the egg whites until they are thick and stand
up on their own. Add 1/3 cup of sugar, a little at a time,  and continue beating until the
whites hold stiff peaks. Fold egg whites into chocolate mixture. Pour batter into
lined baking tin and spread evenly. Bake for 12 minutes or until toothpick comes out clean. Let the cake cool in the baking tin on a rack.
Filling:
2 cups very heavy cold whipping cream
1 tsp instant espresso powder
3/4  cup icing sugar, sifted
3 tbsp sifted cocoa powder
Beat all together in electric mixer until the cream is thick and spreadable. Keep cold. This will keep in the fridge for a week.
When the cake is cool, sift over it 1 tbsp icing sugar mixed with 1 tbsp cocoa. Lay a large piece of waxed paper on top of the cake, and then another cookie or a tray large enough to cover the cake. Turn the whole thing upside down. Remove the cookie tin, and peel off the waxed paper.
Spread the filling on the cake, leaving half an inch at the sides.
Using the waxed paper as a roll-up aide, gently roll the cake longways (that is, starting with the long side nearest you) until it makes a log. You will wrap the waxed paper around it as you go, urging the cake to take a round shape. It will break a little, but that doesn't matter. Roll up and put in the refrigerator for an hour.
Cut off both ends of the log, and "glue" them onto the centre of the log, angled and about dividing the log into thirds, one sticking up and the other laying sort of flat.
Frost the log and draw lines with a knife or fork to make the icing rough like bark. If you have some of the paler filling left, spread a little on.
Decorate with sifted icing sugar as snow, and with gumdrops for berries and leaves.