Water line break on Edward Street
Please be advised the City of Revelstoke has a water line break in the Edward Street area and area residents will be experiencing low water pressure or may have no water at all. City crews are working to repair the waterline break and return water service to area residents as soon as possible.
If you have any questions please call Public Works at 250-837-2001.
***
2012 Garbage and Curbside Recycling Schedule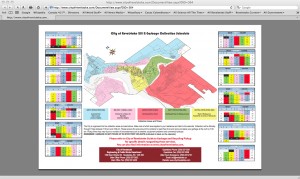 Print copies will go into any mailboxes which receive flyers in the next two weeks and print copies will be available at City Hall at that time also.
Solid Waste
 Collection Areas and Times: 

The City is organized into five collection areas as noted on the map. Make note of which area applies to your residence and refer to the calendar. Collection will be Monday through Friday between 7:00 am and 3:00 pm. Please ensure the area around the container is kept free of ice and snow and place your garbage at the curb by 7:00 am. Pickup times may vary due to a number of circumstances such as weather, equipment problems and commercial pickups.

REMEMBER: GARBAGE IS NOT PICKED UP ON STATUTORY HOLIDAYS (indicated in black on the calendar).
Garbage Collection Service


Each residential dwelling premise is allowed up to two (2) standard containers per week. A standard container means a non-corrosive, durable garbage can, not exceeding 77 litres (17 gallons) in size, a plastic garbage bag not greater than 60 cm x 90 cm (24″ x 36″) with sufficient strength to resist ripping or tearing.

No can or bag may exceed 25 kg. (55 lbs)
Extra Quantity
Garbage in excess of the two container limit shall be collected, if each extra item has a garbage sticker attached. Extra garbage stickers cost $2.00 each (non-refundable) and are available at City Hall, 216 Mackenzie Ave.



Collection Guidelines 


Garbage must be contained in cans in tied garbage bags. Residents are responsible for garbage scattered due to animals, birds or weather.
All table and kitchen garbage, all wet garbage, floor sweepings, sawdust, cold ashes or other granular materials must be placed in a tied garbage bag prior to disposal.

Click here to view garbage calendar and map