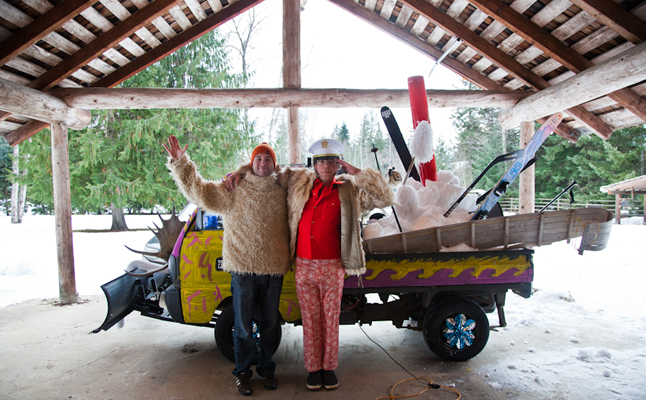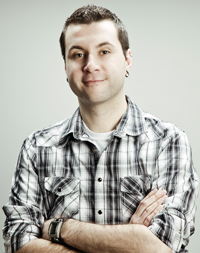 The holidays are a great time to share laughter with friends, reminiscing of what is enjoyable in life and reminding us to stop taking life so seriously.  Each year everyone gathers in the streets of Revelstoke to watch the procession of parade floats and catch a glimpse of Santa's arrival to town.  Dozens of volunteers and engaged citizens participate each year from the design, building and execution of the parade to everyone's delight.
My friend Jean Marc, who recently started a new mini plowing business, asked if I could help him with his float this year.  I jumped at the chance when he showed me the blueprints for what would no doubt be an exhilarating journey through downtown.
The initial design called for a giant set of wings and a flamethrower on the roof of his import mini truck to fully realize the concept of the "Christmas Dragon."  The Christmas Dragon is a lesser-known folk tale from Montenegro.  Children have been charmed for centuries with stories of how the Christmas Dragon helped Santa repel the invading Ottoman Empire, ensuring that Christmas presents would arrive safely.  For many years following, the Christmas Dragon was Kris Kringle's preferred mode of transportation.  It would not be until the mid 1800s that Montenegro would adopt the traditional folk version of Santa's sleigh being pulled by reindeer.  This parade would be a great opportunity to share this wonderful legend with the people of Revelstoke.
As construction began, we were informed that pyrotechnics were not allowed, and thus had to scrap the flamethrower.  Evidently, last year there had been a tragic accident during a Holiday Parade in Nebraska.  A rogue float had entered, shooting flames that ultimately lit up a new art installation commissioned by the town council.  Due to a mix up in the design specifications, the wrong type of paint had been used, which was extremely flammable, causing over $22,000 in property damage.  Luckily no one was injured in the explosion.  Although some eyewitness accounts assert to have seen a family of furless squirrels running into the night, these claims could not be substantiated.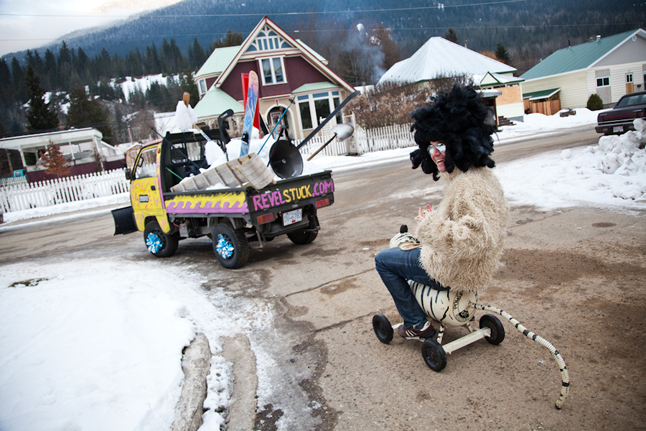 Sent back to the drawing board, Jean Marc and I opted not to plan, but to allow unbridled creativity to direct us.  We scoured downtown Revelstoke for materials and paints and then convened in his garage to begin the artistic endeavour.  With a small space heater blowing and music blasting, we worked long into the evening.  With only pink and yellow tempera paints, I let my impulses run wild and proceeded to paint every square inch of the truck with lighting bolts, flames, waves, and more!  We scrounged through bins to find bits of pipe and tubing, adding a trunk as a nose to the truck and antlers for eyebrows.  We spray painted the plow blade with snow devouring teeth, and as a nod to the Christmas Dragon.  We then set to work on our ultimate construction.
Filling the back of the mini truck with snow, we sculpted and shaped a snow volcano.  Unlike a traditional volcano that emits fire, this volcano erupts snow!  With no fresh snow in Revelstoke for the better part of a week, this would provide a magnificent offering to the snow gods.  Unfortunately, we had some electrical problems and the snow volcano execution fell flat.  Left with no choice, we opted to sacrifice a real gingerbread house to the roof of the truck and to pull a small, metal snow tiger on wheels, which I would ride, behind the truck.  This would divert attention away from the snow volcano that was now spewing skis, hockey sticks and shovels.
Riding a tiger through the streets of Revelstoke was the best way to spend a Saturday afternoon.  I highly recommend it to everyone.  The silliness of the preceding 36 hours of float construction was exuded in our costumes and collection of decorations.  The ridiculousness was contagious and the laughs we heard while traveling down First Street made it all worthwhile.  It's not often that clowns can be found in holiday parades.  We set a memorable precedent.
With the day behind us, exhausted, Jean Marc and I sat down to relax over a beer and celebrate a parade well done.  We laughed as we thought back over the past 36 hours until the conversation drifted… what will we do for the Canada Day Parade?
Author's Note:  Some of the facts above were stretched or slightly bent, however none were permanently injured in the making of this story and all were given ice cream for their troubles.