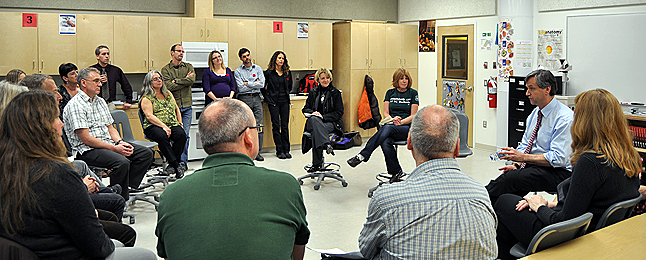 By David F. Rooney
It was a sight you don't often see: a provincial education minister siting down for an informal chat with a couple of dozen members of the BC Teacher Federation and Canadian Union of Public Employees.
There's no telling what kind of fruit would be borne by George Abbott's meeting with Revelstoke Teachers' Association members on Wednesday but it was interesting to watch.
"I've been trying to build a more collaborative and productive relationship with the BCTF and CUPE," he said. "I'd really like to turn around what has been a long-time dysfunctional relationship between government and the BCTF."
In response to a question about money from acting RTA President Jennifer Wolney, Abbott said he'd "love to have more money" to pay teachers and other staff.
"But we don't have more money," he said. "I'd love to have a 16% agreement but we don't have the money."
Like other unions, the BCTF would like a contract that includes a salary increase, however, the government has made it clear that no one — not even MLAs and cabinet ministers — can anticipate an increase of any kind.
"We're going to have to ride this out together,"Abbott told teacher Gord Robinson.
The cordial meeting between Abbott and the teachers did not arrive at any meeting of the minds, but there did appear to be a fair amount of mutual respect. That's not a bad thing when you consider that the BCTF and its member associations like the RTA are currently working working to rule.