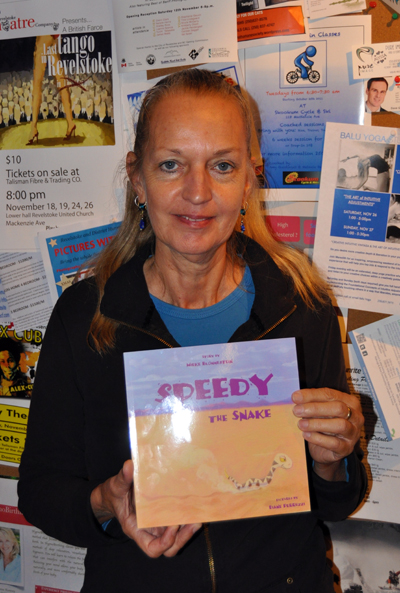 By David F. Rooney
Local children's author Mieke Blommestein is delighted with her latest book — Speedy The Snake.
Her colourfully illustrated book tells the story of a fast-moving rattlesnake who learns how to overcome his fear of the unknown from a friendly caterpillar. It's the kind of cheerful moral tale Mieke is known for.
"My writing is not about making money," she said in an interview on Friday. "It's about the messages."
The messages she directs at children through her simple stories encourage kids to be happy, honest, loving and truthful and to embrace change.
Mieke's books — this is her third — are illustrated by Diane Perruzzi of Sacramento and her bright and lovely artwork enliven Mieke's wordsmithing.
It takes about a year to create one of her books from start to finish and Mieke is almost ready to start the process for book No. 4.
"It's like giving birth to a baby," she said.
And what an offspring!
You can purchase Speedy The Snake or either of her other books (The Tale of Miss Spider Who Spun Her Web and The Tale of Charlie the Toad) on her website or at Grizzly Books, where she will be signing copies on Saturday November 12 from noon until 3:30 pm. She will also be selling her books at the Winter Markets, the No-Host Bazaar and the Hand Made Parade