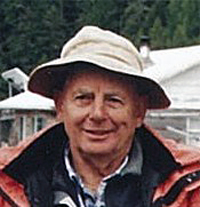 Thomas William (Tom) Koshman passed away at Queen Victoria Hospital, Revelstoke on Friday, November 25th, 2011 at the age of 83 years.  A Memorial Service will be held from the Chapel of Brandon Bowers Funeral Home on Wednesday morning, November 30th at 11:00 a.m. with Mr. Gary Sulz officiating.  Interment of the cremated remains took place in the family plot of Mountain View Cemetery, Revelstoke.  In lieu of flowers, memorial contributions may be made to the charity of one's choice, in memory of Tom.
Tom was born in Drumheller, Alberta, on January 15, 1928, and had been a resident of the Revelstoke area since he was an infant, first arriving in South Revelstoke.  Tom loved gardening, fishing and wood cutting.  His hobbies were picking mushrooms and huckleberries.  Tom also loved to have tea.
Tom was predeceased by his parents and a brother-in-law Frank Rosina.  He is survived by his wife of 57 years, Velda of Revelstoke; three sons: Richard (Joanne) Koshman of Sarnia, Ontario, Jim (Patti) Koshman of Revelstoke and Ken (Liza) Koshman of Vernon; two grandchildren: Kaden and Jonah, both of Vernon; one sister Olga Rosina of Vernon; one niece Darlene (Glen) Trask of Vernon as well as numerous cousins and many good friends.
Messages of condolence may be sent to the family by visiting Tom's obituary at www.brandonbowersfuneralhome.com.
Cremation arrangements are in the care of Brandon Bowers Funeral Home, Revelstoke