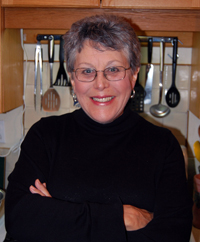 Wok vegetarian chili Yan Jaio
Coconut curry vegetarian or with chicken
Summers in Beijing are hot and steamy. The rain teemed down until we were knee deep in street water. It was so humid (about 98 % humidity lots of days) that a T-shirt took four days to dry, on our little balcony beside the cooker. I longed for the snow-smell now in the air in Revelstoke. But to eat is to live, and eat we did — sometimes well, sometimes interestingly, at times neither. One week I lived mainly on "peanut jam" sandwiches.
Chinese food is above all plentiful in highly visible ways. This is new. Thirty years ago the varied and abundant dishes now typically served in restaurants and at home were simply not available, even to the rich. Friends have described to us their simple childhood meals of cabbage and noodle soup, day in and day out. Now even the working poor eat plentifully, often from street vendors. A really delicious enormous onion pancake with two eggs and a sausage cost two yuan half a block from where we lived — less than 35 cents. Remove one egg and the sausage it's a single yuan, 16 cents. The grilled squid on a stick, also from a street vendor, cost 3 yuan. China's government has made food production and distribution a priority, and the streets, restaurants, supermarkets, market streets and home tables overflow with beautiful fresh vegetables and fruits, rice, noodles, fish and meat.
In general the Chinese eat every single edible part of every plant or animal destined for the table. We have eaten or been offered pig snout; fish eyeball (sliced thin and hot-potted, sort of like rubbery cabbage tasting vaguely of sea); pig's ears, pork skin with all the fat, boiled; grass; chicken bone and more. On the other hand, we've had the most delicately sliced vegetables, the most delicious beans and eggplant ever, and a wider array of mushrooms than Money's dreams of. At the Wangfujian Night Market, there's plenty of evidence of all this — centipedes and silkworms, water beetles and scorpions on sticks compete with fruit popsicles, beancurd and grilled pork lung.
Our Chinese friends are extremely health conscious, choosing healthy food both for personal well-being and as a civic duty. Our friends the Zhaos went to some trouble to fix dinner for us — large plates of salad, a special black fungus that's good for diabetics, chicken legs, beans sprouts and sesame sauce. They drink mainly water, rather than pop, beer, wine, coffee or tea, because it's better for them, but never cold — it has to be warm or, in summer, room temperature.
North China (Bei- North, Jing = Capital) is not a rice or tea culture, and noodles are more likely to come with a meal than rice, which is a separate order. And unlike the South Asian and Cantonese restaurants to which most Canadians are accustomed,  restaurants in Beijing do not regularly serve tea (and almost never coffee, which is available only in coffee houses that are in the  post-Starbuck era quite trendy but very expensive. A cup of coffee costs the same as in Starbucks in Canada — and the same as a whole meal for two in your average student restaurant.)
Unlike in South Asia where it's served automatically with every meal, tea in North China is a specialty, often hard to get in a restaurant, and usually expensive. Beer, on the other hand, is universally available, can be had cold (pijio BING)  and is very cheap —sometimes as little as thirty cents a bottle.
Wine is available only in Western style restaurants — I have yet to see anyone except foreigners order it, and it costs the earth. Alcohol plays a ritual role at banquets, where Gan Bei means "Down the hatch," and is accompanied by a quick swallow of the whole glassful of  beer, the fiery local brew known as jio, or, at gatherings where prestige counts, scotch, gin or sherry, all served intermittently with wine, beer,  warm beancurd milk, yogurt drink or almond milk. If you're invited to a banquet luncheon, don't plan on getting much work done in the afternoon.
Desserts are not part of a Chinese meal except in foreign restaurants. Yet bakeries abound, cakes decorated with fresh cream are a treat, and sweets come in hundreds of shapes, flavours and sizes, usually packaged. We were in China for the Harvest or Moon Festival, during which mooncakes are produced and sold by the thousands. This year, the government decided to enforce tax laws on gifts of mooncakes by companies to their employees—a decision that raised the ire of "netizens" all over China who protested by vowing to send the mooncakes back to their bosses.
Yes, we loved Chinese food. But no, I can't tell you how to cook it. Chinese cooking is an art learned from one's grandmother. My friend Kitty runs a blog about her cooking. She's the only person I've ever met who has as many food photos in her computer as I do, so we had lots to talk about. She assures me that recipes for Chinese food are often unreliable — partly because the best cooks don't write anything down, they learn by taste and smell — and partly because ingredients differ so much from one place to another. Locavore food is the standard rule in China, though pineapples and oranges come from the south by truck.
We have eaten in sophisticated Beijing restaurants as well as local sidewalk greasy spoons, and enjoyed most of it. The most memorable dinner was vegetarian hotpot in Beijing, where fresh vegetables and fried tofu skins, as well as one lamb dish, simmered in a central hot pot on the table to be eaten with sesame sauce. We ladled the hot pot broth into bowls to eat as soup.  At the other end of the scale, a local halal student dive on the sidewalk of our very own university avenue served  amazingly good eggplant with green pepper and potato, as well as green beans fried with chilis and ground pork.  You had to step over shrimp peel and a rather distasteful amount of sidewalk garbage to sit down, but the food was good and very inexpensive.
At home, I cooked mainly vegetarian after gnawing on ground beef (how can anything
ground be tough, I still wonder) and chicken breasts with the approximate consistency of wet plywood. Here are two standbys that will translate nicely into any cuisine. I've included here veggies  commonly available in Canada, though in China I used also a sort of summer squash similar to zucchini, lettuce-like leaves of huge variety, and small sharp green onions of matchstick thickness from which we plied spoonfuls of mud before cooking them in place of large onions.
WOK CHILI YAN JIAO
Serves 8, or two for a week
This recipe is a one dish dinner, although you can stretch it by serving it with rice, noodles or quinoa (this was unheard of in China, but black and variegated rice were plentiful. You can get black rice at Crescendo, in Revelstoke, and for a party, the black rice under the colourful bean dish makes an attractive plate.)
The beans need to soak for 24 hours and then cook for 4, so best to do this part before you start the rest of the chopping. Served with rice or noodles, it makes a satisfying and nutritious supper or lunch. I froze the leftovers. This was one of our staple meals in China. It takes some preparation but then you just reheat it 'til it's gone.
Using fresh tomatoes seems extravagant, but for a meatless dish, I always think one can be otherwise a little forgiving of the costs for veggies. If you like a more intensive tomato flavour, use puréed stewed tomatoes from a can and add 2-3 tbsp. tomato paste. I like the fresh lift of the other veggie flavours not to be overwhelmed by tomato, but cahcun à son goüt. For the broth, I soak dried mushrooms in a quart of water for 24 hours; the result is a purely vegetarian broth that adds depth to the flavour, but you can substitute plain water, or beer.
1 ½ cups dried kidney, black or mottled beans
gallons of drinking water
2 onions, diced
2 green peppers, diced
1 bunch celery, diced
1 sweet red pepper, diced
1 sweet yellow pepper, diced
6 cloves garlic, minced
2 tbsp fresh ginger, minced
2 potatoes, peeled and diced
1 yam, peeled and diced
1 Japanese eggplant, diced
2 cups cherry tomatoes, diced, or 4 large tomatoes, diced
4 tbsp olive oil
2 tbsp balsamic vinegar
2 tbsp soy sauce
2 tbsp rice wine vinegar
2 tbsp sugar
a handful of minced parsley or some oregano
1 tbsp dried cumin
2-3 tbsp ancho chili powder. Taste it first, mixed with a little water, to see if you like the degree ot heat it carries. If in doubt, omit it and add, little by little, before serving.
dried chilis to taste or 2 very small red chilis diced or 2 jalapenos, deseeded, diced
salt and pepper to taste
Wash the beans well, then put them into a large — I mean really big! — bowl. Cover with water then add 2 inches more. Soak overnight, adding more water if the beans absorb it all. Keep adding water until the beans are plump. They will still be hard. It takes 24 hours. Drain, rinse under clear water, and put into a large pot. Cover with water and add 2 inches again. Bring to a boil, then simmer, stirring every 15 minutes, until the beans are soft and a few skins begin to break. (Do the crunch taste—cool one bean under the cold water tap, and eat it — test for doneness. If it's still peanut-like in consistency, it's not done yet.)
When the beans are done, heat the oil in a large wok. Add the onions and garlic, ginger, celery, and peppers. Stir until all are coated with oil and beginning to smell yummy. Then add all the other ingredients, and then add the beans. Add enough mushroom broth to the pot just to cover everything. Bring to a boil then turn down the heat and simmer for about 2 hours, checking every ten minutes or so to make sure there's enough water to prevent the chili from burning.
When the veggies are just cooked, and the beans soft, the liquid should have evaporated into a nice sauce. If not, add a little more broth and stir. A variation on this would be to add beer — a nice touch.
Serve with noodles or rice; sprinkle with chopped cilantro, grated cheese and shredded lettuce.