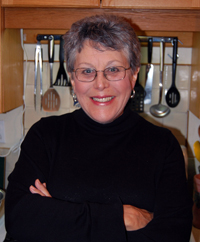 30-MINUTE SUPPERS
Porcini mushroom and parmesan ravioli* with alfredo and sun-dried tomato pesto sauce
Beetroot fettuccine with shrimp in white wine reduction
Spinach ravioli with bacon bits in alfredo sauce and shards of gruyere
* Watch for gluten-free pastas coming to La Baguette in the New year.
While you check your gear for the ski season, here's one more thing to look forward to: La Baguette will be running MacKenzie Outpost, the food outlet at the top of the Gondola this season, as well as a new deli and coffee bar in the village at the base of Revelstoke Mountain Resort.
I went to see Sonia Ratte, creator (with Olivier Dutil) of La Baguette. The shop was full of sunlight and people, so we sat in the space-in-progress behind La Baguette's kitchen. Expanding means new demands on square footage, so: the kitchen area will double, a new walk-in freezer is on site, and office and storage are in place. A mixer with 75 cm stainless steel bowls and a bread hook the size of my arm sit on the bare floorboards.
Sonia graduated at age 17 from the Centre de Formation Professionelle du Trait-Carré in Charlebourg, near Quebec City, then spent four years working in restaurants in la belle province. Now 27, she opened La Baguette in May, 2009, running it as a bakery, deli and catering business. The shop also retails at very reasonable prices a small number of specialty items such as cheese from Quebec and France, olives, and (my own favorite) Maldon salt.
Olivier met me on location at RMR, where the kitchen area slate floor was being installed. He explained how the deli will reflect the natural mountain look of the resort. The hardwood floor of the front space is recycled from the old RSS drama classroom, and a log with the interior carved out will cover one of the vertical standpipes. Next year the outdoor patio space will double.
At MacKenzie Lookout you'll be able to stop for one of Sonia's famous croissants, soup or a bowl of chili plus the usual range of pastries and muffins, chai, hot chocolate and coffee. Sonia and Olivier took the gondola up recently to see the venue. "There's already more than 3 feet of snow up there," Sonia says, eyes flashing. "It's really great." The BBQ will produce Pow-Pow burgers.
The base camp La Baguette deli will offer the same products as in the main shop on Garden near Victoria St. This includes breads, including organic sourdough, croissants, health bars and muffins, house-made ravioli, fettuccine and lasagna, and gelato, cheeses from Quebec and France, olives, hummus and other spreads. Three new salads include organic quinoa, organic eighteen-bean salad, and Israeli couscous. (A prize for anyone who can name eighteen beans.) At RMR, the selection will include a small grocery selection for lodge visitors.
Coming soon: gluten-free bread and pasta. "We can't promise it's 100% gluten free because we're a bakery and we work with regular wheat flour," Olivier says, but speaks of a special gluten-free flour from Italy that will give a product to suit all but the most serious gluten allergies. The imported flour made of soy, rice and corn mixes costs a lot, but Olivier says that "it's really, really good, comparable to our regular home-made breads."
Last year, La Baguette provided lunches for the Cat Ski and Heli Ski operations on the hill. The new hours of operation at MacKenzie Outpost will be 10 am to lift closing time, from the time the hill opens on December 3. The village base La Baguette deli will open from 7 am to 8 pm, once the site is ready. Show your season pass and enjoy a discount.
Porcini mushroom and parmesan ravioli with alfredo and sun-dried tomato pesto sauce
Serves 4 generously, 5-6 if you include both a dessert and a cheese course. For 2, halve the amounts, or do the entire thing and freeze the leftovers for a micro 5-minute lunch later on.
1 package frozen La Baguette ravioli
1 container La Baguette Alfredo Sauce
4 tbsp. La Baguette sun-dried tomato pesto
salad greens: one big handful for each diner
1 package grape or campari tomatoes OR 1 tin mandarin oranges, drained
oil and vinegar
fleur du sel or other quality salt such as Malden
1 chunk Parmesan cheese, grated so as to have 1 cup
1 baguette
some good butter
The big plus of a deli buy is reduced cooking time. This dinner can be assembled in 30 minutes.
1. Put the water for the ravioli on to boil. Set the table.
2. Make a simple salad of greens and grape tomatoes plus shards of cheddar or bits of goat cheese.
3. When the pasta water is boiling hard, slide in the ravioli and cook over lowered heat, stirring gently, for 6 minutes.
4. Heat up, in separate small saucepans, the alfredo sauce and the sun-dried tomato pesto.
5. Mix a little of the pesto into the alfredo sauce, until it's the colour and taste desired.
6. Grate some fresh parmesan.
7. Drain the pasta, run it under cold water to stop the cooking. Put it back into the pot with the sauce, reheat over low heat for 2-3 minutes until it bubbles. If the sauce is too thick, add ¼ cup water, milk or wine.  Stir in half the grated parmesan. (It's important to do this while the pasta is still in the pot, over very low heat.) Serve into warmed bowls.
8. Dress the salad with simple oil and balsamic—preferably, Maletti from Crescendo.
9. For dessert, one of Sonia's small vanilla bean cheesecakes OR home-made gelato—try two flavours, maybe mandarin and lemon, or vanilla with a drizzle of Fig or Pistachio Balsamic from Crescendo.
10. Go for a cheese course:—a Québec Bleu Elizabeth, or the goat cheese Ratoureux, with some fresh grapes or pears, and the remainder of your Parmesan chunk, to finish off with the bread and the wine.
A moderately assertive red wine—Cabernet Sauvignon, Merlot Cab or one of the softer Shirazes—will stand up nicely to the strong flavours and really rich textures of the mushroom and cheese pasta. You don't need to go overboard for this dinner—the keynote is informal, so it's a good time to try a local homemade from Revelstoke U-Brew, or, if your batch isn't ready yet, one of the less expensive Cabs or Merlots from South Africa—a great buy just now, as the industry there is still trying to get a foothold in international markets.
A simple dinner like this is also the perfect foil for a Begbie Honey Ale, or for one of your own home-brews from the U-brew—both have a naturalness and lack of carbonated fizz that pair a thousand times better with food than canned or even imported bottle beer.
Beetroot fettuccini with shrimp in white wine reduction
1 package beetroot fettuccini(the pink one)
1 lb shrimps, peeled and cleaned but uncooked, frozen
1 cup white wine
½ package alfredo sauce
1 cup freshly grated parmesan cheese.
Cook the ravioli a 3 litres of rapidly boiling water, from frozen. Drain and keep warm in a pan with 1 tbsp olive oil to prevent them sticking together. Into the pot, put 2 tbsp olive oil. Add the frozen shrimp and cook until they just turn pink. Add the wine and the alfredo. Stir for 1 minute. Serve into pasta bowls atop the ravioli. A nice wine choice here would be an Italian Proseco, with its slight fizz, now available at the BC Liquor Store. Especially nice for a Sunday lunch.
Spinach ravioli with bacon bits in alfredo sauce and shards of gruyere
Cook the ravioli in 3 litres rapidly boiling water, from frozen. In a frying pan, cook 6 slices of bacon until crisp. Drain and cool, and crumble the bacon. When the ravioli is done, drain it. Into the pot, put the white wine and the alfredo sauce, and heat slowly until bubbling, then lower heat. Add the ravioli and then add the bacon bits and stir. Serve immediately and pass a bowl of gruyere shards (apply a vegetable peeler to a block of gruyere cheese.)
Where to get it:
Pasta, cheeses, sauces, pestos, gelato, bread, desserts: La Baguette at RMR or at Victoria and Garden, beside Ray the Butcher.
Olive oil, Balsamics, (Maletti, Fig and Pistachio) Crescendo: 311 First St. West, Revelstoke
Shrimp: once a month on Thursdays: the Orion Fish Truck (thefishbus.com for the schedule), or Cooper's at 555 Victoria, or Southside Grocery, 900 Fourth Street East.
Duck: La Baguette at RMR or Cooper's.