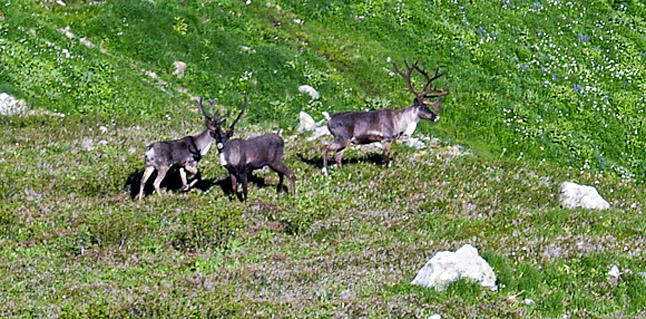 By David F. Rooney
Parks Canada, the British Columbia And Alberta governments and the Calgary Zoo are planning a captive-breeding program as part of a new strategy intended to help protect the future survival of mountain caribou in the mountain national parks, including Mount Revelstoke and Glacier.
The new Conservation Strategy for Southern Mountain Caribou in Canada's National Parks is supposed to guide Parks Canada's caribou conservation actions. And the federal agency is actively seeking feedback on this strategy to ensure that the best possible management decisions are being made in support of Southern Mountain caribou conservation.
"The Government of Canada is proud to work with our conservation partners to encourage a healthy, sustainable population of Southern Mountain woodland caribou in their traditional home ranges," Environment Minister Peter Kent said in a news release Friday morning. "By sharing expertise and pooling resources, we will work toward building a better future for woodland caribou."
Twenty-five years ago, more than 800 caribou ranged in the mountain national parks. Today, fewer than 250 remain. The captive-breeding program, a key element of a Conservation Strategy for Southern Mountain Caribou in Canada's National Parks developed by Parks Canada, will provide source animals to supplement critically small herds in Jasper, Mount Revelstoke and Glacier national parks and in the Province of British Columbia, as well as to reintroduce caribou to Banff National Park.
Members of the public are encouraged to review the Conservation Strategy at www.parkscanada.gc.ca/caribou. Public comment is welcome.
Five Key threats to woodland caribou populations in the mountain parks have been identified and actions proposed to reduce these threats. Each action may or may not be applicable in all four of the mountain national parks (Banff, Jasper, Mount Revelstoke and Glacier).
1. Changes to predator-prey populations in and around caribou habitat
Keep primary prey for caribou predators low by preventing "elk refuges"
Monitor predator populations to anticipate their impact on caribou recovery
Maintain/monitor caribou population size and habitat
2. Facilitated access for predators to caribou
Provide visitors with opportunities for recreation in areas not important for caribou while restricting recreation in caribou habitat
Discontinue setting early season ski tracks that lead to caribou winter habitat
3. Direct disturbance
Reduce speed zones on roads through important habitat
Implement periodic seasonal trail and road closures
Relocate trails away from important caribou habitat
Educate park visitors to avoid disturbing caribou
4. Habitat loss
Use prescribed fire in areas away from caribou habitat to maintain a safe distance between caribou and their predators
Use prescribed burns to guard against large fires within caribou habitat
Development within important caribou habitat to be considered under exceptional circumstances only, and must not adversely affect caribou
5. The increased threats faced by populations that have already become dangerously small
Re-introduce or add caribou where herd sizes are critically low
Manage other threats to prevent caribou populations from becoming small
However, at least one local naturalist is skeptical about the captive-breeding part of the strategy.
"I think it's wishful thinking," Michael Morris said Friday afternoon. "You can't swim upstream. If you don't have conditions that allow caribou to be caribou then you won't get very far. It's not broccoli they'd be growing. What's important is that we have proper land-use practices."