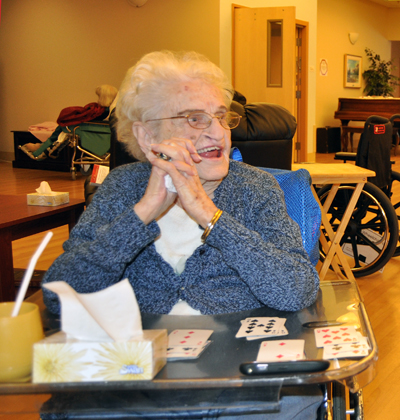 By David F. Rooney
Despite her 106 years Thelma Nilsen is still sharp as a tack.
Though born in Vancouver, Thelma has lived here ever since she was 15. Fresh out of high school she worked in Fred Young's store on Mackenzie Avenue right about where the Dollar Dollar Store is now. She married Ivan Nilsen, brother of the famous skier, Nels Nilsen and led a pretty happy life.
She never had children but she enjoys the love and attention of niece Kelly Gale and her brother, Bill Rear, who visit often.
"Revelstoke has changed over the years and so have I but too much," the sprightly centenarian said while she enjoyed a game of solitaire. "I'm ancient history."
She's also got a wicked sense of humour and loves dancing.
"The last time I danced was at my 100th birthday party," she said with a smile.
Arthritis in her knees keeps her in a wheelchair now, but Thelma can still move her feet to the Charleston.
"I'm an old duck," she laughed.
Thelma Nilsen will be 106 on November 23. There will be a tea for her on Sunday, November 27, at
Mount Cartier Court at 2 pm so friends can come and wish her a happy birthday.