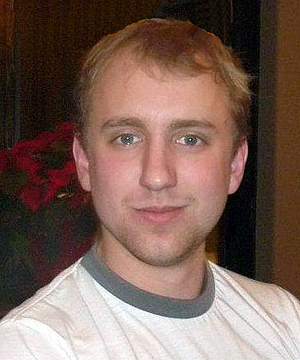 Olindo Frank "Frankie" Brunetti died suddenly as a result of a motor vehicle accident on Thursday, September 29, 2011 at the age of 22 years.
Prayers will be recited from St. Francis of Assisi Catholic Church, Revelstoke on Wednesday evening, October 5 at 7:30 p.m., followed by the Mass of Christian Burial on Thursday morning, October 6 at 11:00 a.m. with Father Cecil Nunez celebrant.  Interment will follow in the family plot of Mountain View Cemetery, Revelstoke.
Pallbearers are Danny Allen, Mitch Powers, Curtis Smith, Eric Smith, Rhys McKay, John Fitchett, Adam Burke and Rory Lauzon.  Honorary pallbearers are Holly Caldwell, Caleb Anderson, Ryan Bobrowski, Orie Hedin and Gerald Mower.  In lieu of flowers, memorial contributions may be made to a Memorial Bench Fund, c/o City of Revelstoke, Box 170, Revelstoke, B.C. V0E 2S0, or to the B.C. Children's Hospital, 4480 Oak Street, Vancouver, B.C. V6H 3N1, in memory of Frankie.
Frankie was born in Revelstoke, B.C. on March 15, 1989 and had been a lifelong resident.  He loved being in the outdoors hiking, fishing, boating and riding dirt bikes.  Frank also loved to play soccer.  He loved life and lived it to the fullest.
Frankie is survived by his parents Rhonda and Olindo of Revelstoke; one brother Ronnie of Revelstoke; grandmother Rita Brunetti of Revelstoke; maternal grandparents Fran Jones of Revelstoke and Ron Jones of Winfield; aunts and uncles: Cindy Allen (Rick White) of Revelstoke, Darryl Jones of Winfield, Sam (Charlene) Jones of Langley, Angelo (Carrie) Brunetti of Revelstoke, Antonio Brunetti of Revelstoke, Claudio (Brianne) Brunetti of Revelstoke, Mike (Stacey) Brunetti of Revelstoke; cousins: Laura, Danny, Ryan, Charlie, Marissa, Tiffany, Tara, Luciano, Leonardo, Josh and Kobe; Zia Maria Palladino of Revelstoke as well as numerous other cousins, aunts and uncles.
Messages of condolence may be sent to the family by visiting Frankie's obituary at:  www.brandonbowersfuneralhome.com.
Arrangements are in the care of Brandon Bowers Funeral Home, Revelstoke.