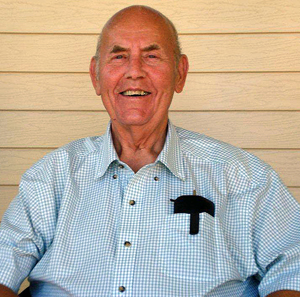 It is with profound sadness we announce the passing of Charles Frederick Christoffersen (Fred) on October 1, 2011. Fred was born December 24, 1935, in Kamloops, BC, and shortly thereafter his family moved to Revelstoke, BC, where he resided for the next 40 years. Fred married his high school sweetheart, Audrey Herbert, and over the next 58 years they were blessed with four children, Debra (Peter), Laurie (Cameron), Janice and Cory (Leanne), 9 grandchildren (Mark, Bradley, Lisa, Nick, Alex, Tyler, Travis, Matthew and Kyle), five great-grandchildren (Cole, Paige, Isabella, Madilyn and Andrew) and his special little friend & companion, Allie.  All shall miss him dearly.
Fred enjoyed a 35-year career with CP Rail. During his retirement years, Fred was very active in the Masonic Lodge, volunteering at the Kelowna Cancer Clinic, traveling and spending time with all his family and friends.
Friends and family are invited to attend a memorial service that will be held on Friday, Oct 7 at 1 pm, at the Salvation Army Community Church, 1480 Sutherland Ave., Kelowna, BC.
In lieu of flowers, Fred's charity of choice would be Okanagan Cancer Car Project,2251 Abbott St, Kelowna,BC V1Y 1E2.
The Christoffersen Family