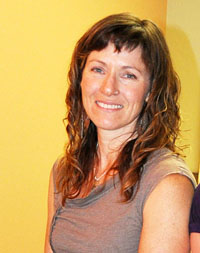 By David F. Rooney
Karen Schneider has withdrawn from the race for City Council.
I've withdrawn from the race; it was a difficult decision but I came to the conclusion that given my present commitment to establishing my business, as well as needing to prioritize my neck issues, I wouldn't be able to give the energy and time to a position in City Council that I would want to give," she said in an e-mail to The Revelstoke Current.
"I also feel that there are some really good candidates who I feel will give voice to similar concerns as I would have brought to Council.  I plan to put my toes in the water by sitting on a sub committee in the near future if there are any openings."
The 41-year-old Schneider is a registered massage therapist who recently founded a new business, Bodylogic. She had regarded as development, both overall and economic as well as infrastructure renewal as major issues for the community.
Her withdrawal leaves 12 candidates in the race for City Council.
Those candidates will be officially declared today, Monday, October 24. As well, Mayor David Raven, who was unopposed, will be officially acclaimed.
A public all-candidates forum for School District 19 Board of Trustees candidates will be held Wednesday, October 26, at the Seniors' Centre at 7 pm. Eight candidates have been nominated.
The public all-candidates forum for Council candidates will be held Wednesday, November 2, at the Community Centre at 7 pm.
Advanced voting will be held on Wednesday, November 9, and Wednesday, November 16, from 8 am until 8 pm at the Community Centre. General voting will be conducted on Saturday, November 19, from 8 am until 8 pm at the Commuity Centre.
Results will be officially declared on November 23 at 4 pm with the new Council's inaugural meeting scheduled for December 5.