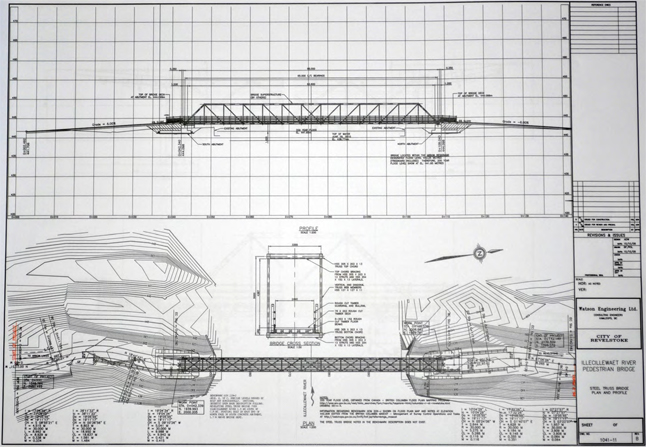 By David F. Rooney
Vic Van Isle Construction Ltd. has been awarded a $678,885 contract to build the long-awaited Illecillewaet Pedestrian Bridge. The contract was approved by City Council during a special meeting on Tuesday afternoon.
The bridge design echoes the old CPR bridge that once spanned the Illecillewaet and will not cost local taxpayers a dime. It is being built with $735,000 in grants from:
Towns for Tomorrow — $375,000
Columbia Basin Trust — $100,000
Cycling Infrastructure — $50,000
Tourism Infrastructure — $210,000
While the contracted amount is $678,885, the HST, after a 1.75% rebate, and engineering costs will increase the total cost of construction to $720,765.49.
There were a total of five bids for this project, including two alternative design proposals. A detailed review of the tender result was carried out by Watson Engineering Ltd., which managed the tender process for the City.
The report recommending the award to VVI said the two alternative designed involved the use of timber and steel with one structure being 49 metres in length and the other being 55 metres long. It said there were some difficulties with the two alternatives as they "did not provide sufficient elevation above the design flood elevation of the river and they were beyond the available funding for the project."
The new bridge will be constructed at the site of the old CPR bridge abutments.
Illecillewaet Greenbelt Society Chairwoman Louisa Fleming was excited by the news.
"I am ecstatic about the bridge and am looking forward to enhancing both sides of the new bridge area as soon as it is done," she said.
The Greenbelt Society has long advocated a pedestrian bridge that would link the Greenbelt with the flats across the Illecillewaet.