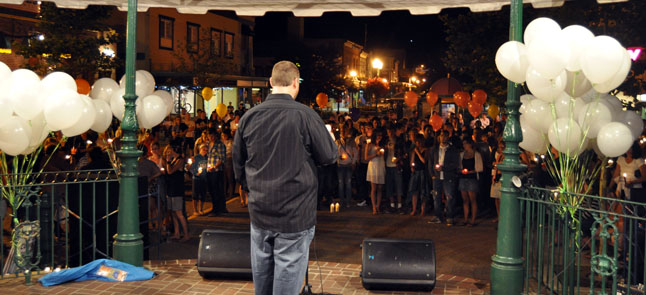 By David F. Rooney
A crowd of people more than 300 strong gathered in Grizzly Plaza Friday night to mourn the loss of Daniel Levesque, a 20-year-old who was stabbed to death in a Victoria apartment on Wednesday afternoon.
Their outpouring of honest, healthy grief was humbling and deeply touching.
"To some you were a son and a brother," said commemoration organizer Dave Marchand. " To some others you were a friend but to everyone you were a ray of sunshine, a leader and a hero… Not a person who knew you would disagree that you were meant for great things, because you were.
"We stand here together tonight humbled and awe-struck, all holding back tears, fighting the emotion swelling inside each of us, all the while wishing we could all be like you — never afraid of showing emotion and always wearing your heart on your sleeve."
Daniel, the son of Stacey Thur and Steven Levesque, was stabbed Wednesday afternoon at an apartment on Cormorant Street in Victoria. He  died at Victoria General Hospital.
According to a statement from the Victoria Police Police Department he was one of two men found inside the apartment suite.
"The other man, a 26-year old from Victoria, was also taken to hospital at the time," Victoria Police spokesman Const. Mike Russell said in a statement. "He was admitted in serious condition, but released later that evening into police custody. Police have identified him as the suspect in Levesque's death and he appeared before a telebail hearing on Thursday night. He will remain in custody on a court remand for August 18. Charges are still being contemplated.
"Vancouver Island Integrated Major Crimes Unit and Victoria Police will continue to collect evidence and further their investigation until that date."
News of Daniel's death has left people young and old numbed and disbelieving.
"This is the third young man from our community to be murdered in the last year," said one woman at the memorial. "He was such a lovely young man. I can't believe he's gone."
No one can, in fact. Friends like Jennifer Howe wept openly as she remembered the friend and classmate who helped her gain confidence in herself and the courage she lacked as she entered high school.
"I miss those days — the laughter, music and fun that we shared," she said. "I love myself today because you taught me to love myself. I'll always remember you."
Friend Taylor Roberts took the stage to play a song in his friend's honour, but his grief overtook him and he broke away with tears in his eyes as sobs and moans of sorrow followed him from the bandstand.
And then his mother, Stacey Thur, came on stage supported by a friend to thank the crowd for coming out. Stacey's grief was palpable and emotionally overwhelming for everyone there.
"I was lucky to see him on Sunday," she said. "I went to the Coast and he came over from the Island. He told me how much he loved everyone here and how much he missed them. He was a good boy — a really good boy. But he has a little brother and a little sister and I have to be strong for them."
What must be said about this impromptu commemoration is that as humbling and emotionally wrenching as it was, it demonstrated the strength, cohesion and compassion of our community. Stacey and her family — indeed all of us — will need that in the days ahead.
If you would like to post a message to Daniel you can do so via the wall on his Facebook page, which also contains a number of his poems, including this one that I found deeply poignant:
Soulfire burn, until your flames are put out
climb higher please, and never ever doubt
your own existence, because you keep us alive
your embers keep us warm and your love defines divine