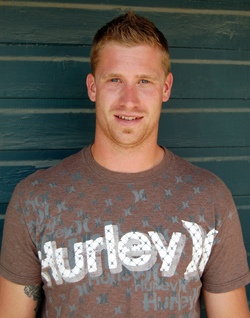 By David F. Rooney
Kevin Kraus is bringing the right stuff to the KJIHL Revelstoke Grizzlies as its new assistant coach.
What's the right stuff? How about this: Kevin has high-skills developed though a lifetime of playing the game and honed to a fine edge as the championship-winning captain of the BCHL Junior A Vernon Vipers. Talk to him for more than two minutes and you are immediately struck by his calmness, the thoughtful way he responds to questions, his maturity and his willingness to do exactly what is necessary to win. And, at 22 years of age, he is close enough in age to bond with the young men who will form this year's team.
In short, he's the perfect addition to the team's coaching staff, which until this week consisted solely of Head Coach and GM Randy Quackenbush and Associate Coach Darren Komonoski.
Motivating the young men who will play for Revelstoke this year is a major task for the coaches.
"We're responsible for their performance but in the end, as coaching staff, we can only provide them with the guidance they need when they step on the ice," Kraus said in an interview Wednesday. "They're the ones who have to perform out there on the ice ."
Kraus knows about performance. A skilled defenceman, he has good vision and works at being patient with the puck. He has also had pretty clear vision of where he wanted to go in hockey.
"I always had relationships with my coaches but I also liked to be in control — to be a leader, instead of being one of the followers," he said. That prompted him when he was in Vernon to spend as much time as possible in the office learning how the back end of the game was played.
"That gave me a lot of new experiences," he said, adding that — if possible — he'd like to continue building on a career in hockey, albeit as a coach now, not a player. But like any smart young man he doesn't count his chickens before they're hatched.
Kevin has earned a ticket as a power equipment driver and figures he can make a living doing that, at least part-time, if coaching hockey doesn't take him where he wants to go.
Now, this newcomer to Revelstoke just needs to find a place to live.
"I like small towns," he said, adding that he is discovering "just how beautiful this place is."
If you have, or know someone who has, a bachelor suite or a one-bedroom apartment for rent, give him a call at 250-814-9343.
Click here to see Kevin Kraus' career stats