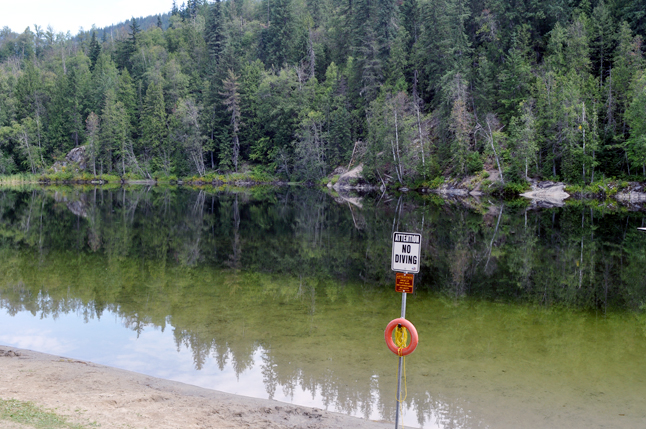 By David F. Rooney
A young girl was injured at Williamsons Lake Sunday afternoon when she hit jagged rocks in shallow water while swinging on a rope from a tree between the Big and Little Rocks on the east side of the popular community swimming hole.
Witness Scott Hulley said the child, later identified as Alanna Brittin, sustained at least three major gouges in one of her legs when she hit the rocks while trying to swing into the water at about 4 pm.
"A woman brought her across the lake in a dingy," he said. My buddy Dennis Kelly and I met her as she came to shore. It looked like she had been bitten by a shark."
Hulley said he tied a tourniquet around the girl's leg and other adults at the scene drove her immediately to Queen Victoria Hospital.
"She was so calm and so brave," Kelly said.
Alanna was treated and later sent home with parents Penny and Richard Brittin.
"She's lucky," her mom said. "There was no tendon damage. It was really a matter of stitching her up."
Kelly and Hulley were disturbed by the fact that other children have been injured using the rope swing and nothing had been done to discourage its use. In fact, some people complained to them when they crossed the lake and cut down the rope swing.
"I know other kids have hurt their feet using it and nothing was done about it," Kelly said. "I don't get that."