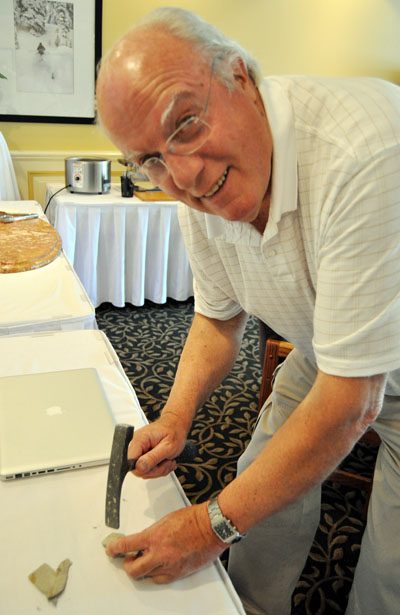 By David F. Rooney
They've been extinct for 256 million years but long-vanished trilobites and other fossilized creatures may receive a new lease on life as sources of inspiration for children who may become our future scientists, says former MP Jim Abbott.
"As an ex-MP I suppose it's all right if I talk about fossils," the long-time Conservative joked as he addressed members of the Revelstoke Rotary Club over lunch at the Regent Inn on Thursday.
Abbott described how he has become an advocate for 10 of 11 sites near Fort Steele where vast amount of fossil trilobites and other ancient animals have been found over the last decade. Trilobites are ancestors of many of the arthropods currently in existence and new species are being discovered.
Since retirement last May, Abbott has  begun helping East Kootenay residents Chris Jenkins and Chris New research and promote their enormous find of ancient fossils in the Bull River area in the southeastern part of the riding. Abbott put them in touch with the Burgess Shale Foundation and hopes to find public funding to help develop the 10 sites near Bull River for continued scientific investigation.
What he doesn't want to do is see the fossil beds fall under government control.
"National parks ar about preservation," Abbott said. "We'd like to see continued scientific investigation."
Towards that end, he said he will be talking with school districts, beginning with SDs 5 and 6 in the southern part of the riding and later bringing others on board, to see if they would like to develop a science curriculum aimed at interesting school children in the fossil beds. Ideally, some — perhaps even many — of thee kids would go on to follow careers in science.