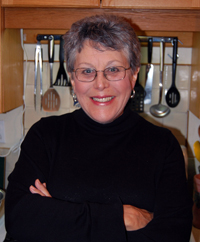 I like stove-top cooking in the summer as the oven heats the kitchen up and toasty is not what I want to beat 6 pm on a July evening. This dinner is fast and easy, and you could do it on the outdoor barbecue or over a camp stove. If you can get fresh peas, carrots and lovely new potatoes, it's just earthward of divine. Not fancy or particularly nouveau anything, but full of flavour and textures, light enough for a hot day but comforting also in the rain. The colours are great too — the orange of carrot, the fresh green of newly shelled peas, the beautiful blond new potatoes.
You could substitute seafood, pork medallions (a tenderloin of pork sliced into one inch pieces) or small lamb chops for the chicken, and have it ready in the same 30 minutes. For non-meat-eaters, an omelette or a mixture of chick peas and white Italian beans might replace the chicken. For the beans, use the same onion-carrot mix with lemon as for the meat.
Really fresh peas need neither salt nor sugar nor butter.
Timing is simple in this prep, but you do have to do several things at the same time: as the chicken cooks, prep the peas and potatoes; they will be done in 20 minutes if you cut the potatoes up as suggested. Peas need 7-10 minutes on the boil. Undercooked they taste okay but are a little indigestible. The chicken will be done in 25 minutes. The secret to fast cooking is to cut things small, as in Chinese cuisine, and use fairly high heat at the start to get things going.
Lemon Pepper Chicken Pan Sautéd with Carrot Nuggets
serves 4
3-4 chicken breasts, skinless and boneless and sliced lengthwise
3-4 new carrots, diced into neat squares
½ large sweet onion, finely diced
zest and juice of 1 lemon
salt and freshly ground pepper
2 tbsp olive oil
Heat the oil in a sauté pan and add the diced onion and carrot. Sauté for 5 minutes over high heat, stirring, then add the chicken strips and turn the heat down to medium. Cook, turning every five minutes, for 15 minutes. Add the lemon zest and juice and cook another ten minutes, turning often. If the mixture becomes too dry, add a few tablespoons of water or wine and simmer on low until everything else is cooked. Add a twist of freshly ground pepper at the very end.
Fresh Peas
As many peas as you can happily shell in 5 minutes. If possible enlist your kitchen patrol for this job, which can be done early in the day, watching TV, or sitting on the porch.
Shell the peas and put in a saucepan. Cover with water to half an inch above the peas, and boil over medium heat for 10 minutes. Drain. Serve.
Parmesan Crushed New Potatoes
3 large or 12 very small white or yellow new potatoes
1 tbsp butter
1 2-inch piece of fresh Parmesan cheese ( about 2 ounces for 4 people)
As soon as the chicken is in the pan, start the spuds. Wash the potatoes but leave skins on. Remove any mud, eyes, bulges or brown spots. For large potatoes, cut each lengthwise, cut each half lengthwise again, then cut the quarters into thirds. For small potatoes, cut each in half. Cover with water in a saucepan and boil for 15-20 minutes. They will be done when the skins start to separate from the potato flesh. Drain. Put into a bowl and smash with a fork, not mashing them but breaking up each potato. Add the butter and grate the Parmesan finely over the lot, then stir together. Keep hot by placing a pot lid over the mixing bowl.
That's it. Serve with Malden salt, fresh ground pepper and a glass of chilled white wine or a Pale Ale. Break out the Okanagan cherries, fresh and piled high in a bowl, for a metaphoric dessert that couldn't be easier.
Wine: try a Reisling, Gewurtztraminer or Chardonnay — something on the light side, even fruity. Or a Pale India Ale, for beer drinkers.