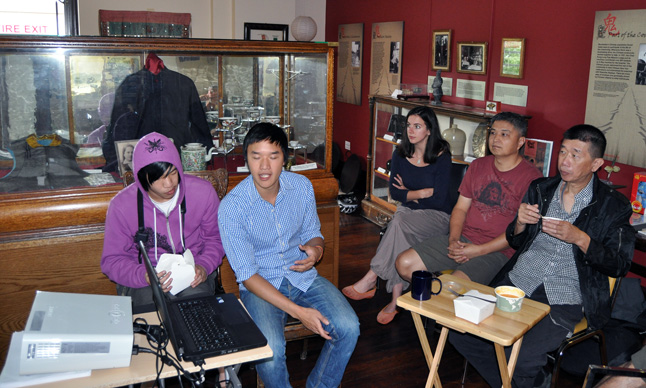 By David F. Rooney
Artist David Cheung is inviting Canadians to turn a dark page in Canadian history by symbolically laying to rest the spirits of up to 5,000 Chinese labourers who died during the construction of the Canadian Pacific Railway in the 1880s.
Working with his sons Lucas and Dudley, Cheung is inviting interested people to create small works of art or poems commemorating the dead workers, who were among 17,000 Chinese from Guangong Province who came here to build the CPR. The Cheungs are travelling by train and bicycle along the section of the railway constructed by the Chinese workers.
Through their interactive Rocky Railway High Project they hope to collect 5,000 submissions of original art and poems from other Canadians. The works will be publicly exhibited at the Chinese Cultural Centre in Vancouver in November. They will then be shipped to Guangdong where they will be buried in a symbolic laying to rest of their spirits.
"We really want people to reflect on what happened," Cheung told Revelstokians who gathered at the Revelstoke Museum & Archives on Tuesday to see a presentation about the project.
His son Lucas, whose mother is descended from one of the Chinese who came to work on the CPR, said "there's a lot of dark history involved but we have been really encouraged by the people who have helped us out."
The Chinese workers who stayed in Canada and their descendant suffered from decades of social, economic and political exclusion in Canada but nonetheless thrived and have made many remarkable contributions to our country.
 Click here to see the Rocky Railway High Project website, complete with samples of the artwork and poems submitted by other Canadians
Click here to download a submission form you can use to contribute a poem or original artwork to this project