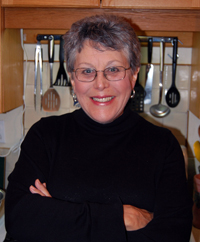 One of the most savory pleasures of springtime and early summer — and one thing that makes spring rain bearable — are the pleasures of fresh veggies right from the garden. In my case, right from Wild Flight Farms, as my backyard has yet to see our raised beds of the future.
For those of you lucky enough to work in long-established garden plots, a book suggestion is Harmonic Farming: A love style, by Werner M. Gysi and published by Gooly Mooly Publishing from his Gooly Mooly Art Farm in Enderby. I met Werner at one of the community markets last winter. This energetic farmer/sailor/writer/publisher and his wife and some of the children run a homesteading farm with bees, goats, sometimes pigs though they've given up eating them, rabbits and fruit trees.  One year they took off and sailed a concrete boat around the world, or most of it — the topic of another, quite different book.
Harmonic Farming is tempered with large doses of spiritual advice just short of sermon, but the Gysi's hearts and minds are inspiringly attuned to natural weather cycles and the nurturing of Mother Earth. The detail in the book is beyond my needs or possibly yours if a city plot is your fate, but it's a fascinating read, with many drawings and diagrams of projects such as how to build a rabbit or chicken hutch on wheels so as to make use of the grass underneath. The book may well inspire you to look for land beside the river. You can order a copy from Werner at 250-838-6375 or online at goolymooly@gmail.com.
Saturday at our house is full fridge day, what with Friday Delivery from Comfort Zone and then the market on Saturday morning. I find cleaning things slightly — not washing them until you use them though, except for radishes, and storage in waxed or parchment paper then in plastic bags is great. Or make a sack out of an old white towel, and store the veggies in terry towel. These are occasionally available at markets, made by enterprising stitchers sometimes with a nice drawstring. They work better than anything else.
Then the only question is what to do with a radish the size of a tennis ball?
Mara Lake Market was selling fresh Armstrong asparagus last month, and we stopped to pick some up on three different trips. I like the fat stalks of asparagus, even though it means peeling the ends, but you may prefer the thinnest ones possible — in which case the cooking time should be adjusted downwards.
It's all the rage now to grill asparagus with some balsamic, and that's nice, but my favorite is still plain steamed asparagus, cooked slightly more than tender crisp so that you can eat the whole stalk with no woody bits.
Asparagus, Baby Beet and New Potato Salad with Orange Vinaigrette and Pine nuts
This a very satisfying one-dish dinner salad. With a slice of honest bread and really good olive oil for dipping it into, with a glass or red wine or a Tall Timber, this makes a meal. When the asparagus finishes, this would be equally good with fresh green beans from the garden.
1 lb or more asparagus — five to six whole stalks per person
1 lb new potatoes, preferably yellow but any will do
1 lb baby beets
½ lettuce, leaves washed and dried
¼ cup toasted pine nuts
½ cup orange juice, fresh
zest of 1 orange (1 tbsp)
¼ cup olive oil
2 tbsp balsamic vinegar
5-6 mint leaves, fresh, minced
Break each asparagus stalk off at the point where it snaps, and discard the woody end. For pretty presentation, cut the ends off neatly where the stalks break. Steam the asparagus in ½ inch of water in a frying pan for 7 minutes or until the doneness suits you. (Pick out a piece, run it under cold water, and cut off the end — not the tip — to taste for doneness.)  Drain and run under cool water for a minute, then drain well again. Set aside.
At the same time, cut the baby beets free from their green tops (save these for use later) and boil them in a small pot until you can stick a fork well into their centres — about 15 minutes. Drain return to pot. Let cold water run over them until they are cool enough to handle. The skins will slip off when you rub them. Cut off any rattail ends, and put into a separate bowl.
Wash the new potatoes, and while the beets and asparagus are boiling, boil the potatoes too, until they pierce with a fork and the skins split — about 20 minutes. Drain and reserve.
Wash the lettuce, dry it in a spinner or with paper towel, and arrange on plates. Place the asparagus on top, and the beets and potatoes to one side. Sprinkle with pine nuts toasted very lightly (in a frying pan, with you jiggling it the whole time — I promise that if you take your eyes off this the nuts will burn), or with chopped toasted hazelnuts.
Orange Vinaigrette
Squeeze the orange and rasp it for the zest, using only the orange part of the skin after washing it thoroughly.
Mix the juice and zest in a little jar with the olive oil, balsamic vinegar and minced mint leaves. Let each person add their own vinaigrette at the table —purists may prefer just salt and pepper and a twist of lemon.
PS: A nice change is to use mango juice or a tin of baby apricots, with lemon zest, if you don't have an orange.
Fresh veggies and yogurt cheese dip
One of the easiest ways to serve fresh veggies is to simply arrange them, cooked, cleaned and in some cases sliced, with  dip. Dip recipes abound, and grocery stores now carry hummus of various sorts, dips and salsas. A homemade version can be easily mixed up with some thick Balkan style yogurt and a strongish cheese. You can add a garlic clove and a shallot, both finely minced, if you like a really strong dip, but in this case eat it at once — the garlic and onion flavours will grow if this spends a night in the fridge, and then you'll have to have the taste buds of an ox to really enjoy the veggie flavours beyond the dip.
Use carrots, small and whole, just washed very clean; asparagus, steamed tender-crisp; endive or lettuce hearts; baby beets on toothpicks and in a separate container to prevent everything turning blood red; radishes, whole or if large, sliced; celery stalks; salad turnip sliced into nice boxy fingers; tiny new potatoes, boiled and whole; red, green and yellow pepper tongues; mushroom, cleaned and de-stemmed, possibly sautéd briefly.
1 cup yogurt — Greek style if possible, and thick
½ cup crumbled blue-veined cheese: Danish blue, Roquefort, Gorgonzola or Stilton (the nicest, if you can afford it)
2 tbsp freshly squeezed lemon juice
1 tsp flaked salt
chopped chives to garnish
Mix all together , smashing the cheese into the yogurt.
If you aren't doing dairy, try this with silky tofu mashed in the blender with the cheese, instead of yogurt. I am not a soy fan, and haven't tried this. Let me know how it comes out, if you do. In the meantime, try a radish on a bun!