By Barbara Little
The 2011 Seniors Games are being hosted in the West Kootenays next month with the dragon boat competition on Kootenay Lake at Nelson.  As Revelstoke's Dam Survivors don't have enough master paddlers to enter a team (competitors have to be 55 or older this year) five local women are pumped by being picked up by the Kamloops Extreme Dragons.
Freshly back from medalling at the recent Salmon Arm Festival, Dam Survivors' coach Ginger Shoji, Vivian Mitchell, Diane Andrews and Barbara Little are training hard for the Seniors Games.  Lead stroke Jen Wolney will also be competing with them.
"It's an honour and a privilege at our age to be able to participate in an event that demands such rigorous effort," said Shoji. "When we come off the water after all our energy is focussed in the boat, it feels like your floating."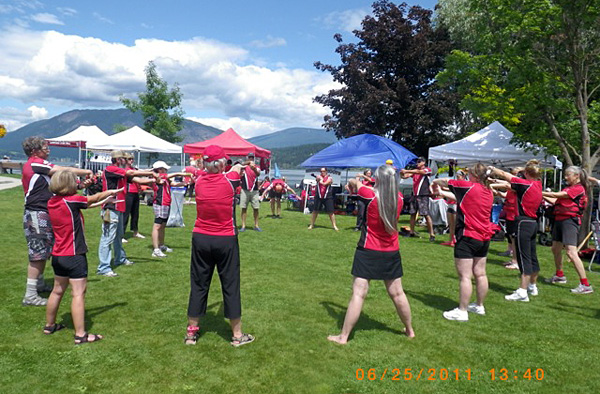 To fill the boats at competitions (twenty paddlers) there's lots of jumping ship going on.
Several Dam Survivors were hopping in and out of boats to medal twice at Salmon Arm. That meant some of Revelstoke's paddlers had up to eight races as opposed to three.
The Survivors borrowed four big, beefy men and one gal from Kamloops to compete in the mixed category.  "We missed third place by only 1.91 seconds.  As manager I'm not surprised the team did so well," said Jackie Goodman, giving her team a shout, "Dam Survivors — you will rock the Penticton Festival!"
Shoji, Goodman and Diane Andrews also competed in the women's division with Dr'agonize Ladies paddling to first.  Finally Shoji, Andrews, Mitchell and Little hopped into the Extreme Dragons' boat and scored another first in the masters division, nailing the fastest combined times (three heats of 500 metres) of the event with 8:54.
Drummer at the helm for the Survivors was ex-Revelstokian Joan Eley.  Eley, now of Kamloops, and Shoji were instrumental in forming the Lake Revelstoke Dragon Boat Society and bringing dragon boating to town in 2004.
They say once you've raced in a dragon boat, you're hooked.  It's fast, it's competitive, it's enervating and heaps of fun.  Team names say it all; Paddle Your Assets, Pink Pistons, Lift What's Draggin, Outta My Wake and this paddler's favourite, "Ima-go-na-kicka-yo-ass!"
Revelstoke might only have one team but they are a keen bunch. Various members travel out of town to paddle for extra practice and training on top of twice weekly workouts on Lake Revelstoke.  The Survivors are preparing for a Vernon race in August and the Penticton Festival in September.