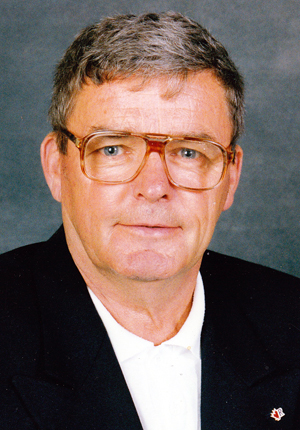 We regret to announce the passing of  George Hannah at Kelowna General Hospital at the age of 83 years on  June 26. He is predeceased by his mother Ellen Hannah, his brother Charles, and his daughter Brinda Ray.
He is survived by his loving wife Donna Hannah, his son Daniel (Carol) Hannah, daughters Patricia (Greg) Haynes, Loni (Larry) Parker,  Dorothy Hannah, sons  Murray  Hannah,  Neil (Joyce) Hannah, grandchildren Justin Haynes, Christopher Hannah, Jennifer Haynes, Shannon Hannah, Jeff Parker and Meagan Burling.
George had a long military career, and after his retirement he embraced life with his wife and his entrepreneurial activities.  He owned and operated numerous businesses including a restaurant and RV sales in Nova Scotia and with his wife the Family Laundry and Dogwood Garden Centre in Revelstoke.   He was a master carpenter, lending his expertise to many buildings and projects around Canada.
He loved his boats, with the first being the DonnaAnna  which they enjoyed cruising in the Bay of Fundy and the DonnaAnna2 that they enjoyed on Lake Revelstoke.  George also crafted numerous model ships and completed two unfinished by Dave Williams (including the Minto paddle-wheeler)  which are in Revelstoke Museums.
He loved living in Revelstoke and was very community minded.
There will be no funeral service by request although a celebration of life will be held at the residence of Donna and George on the evening of July 1.  In lieu of flowers donations can be made to the Heart and Stroke Foundation .