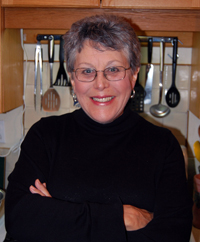 What's your favorite comfort food?
I'm willing to bet that if twenty readers reply to this question, every one will be different and some will sound utterly crazy.
My cousin John Roberts and I once discovered that as children we both knew Campbell's Cream of Green Pea Soup as our favorite soup, with crushed Saltines as garnish, and that this was the only soup we would eat. And the only pie we could abide as kids was pumpkin, which was served often and certainly on every grand occasion, along with apple. We never lived in the same household, nor did he and my mother, who are first cousins. The long arm of family culture, not nature, surely accounts for these odd culinary alignments.
Comfort food surely emerges from childhood preference. People have told me, in tones that drip with longing and that childlike voracious hunger for foods that delight the senses, of eating oranges at Christmas, of walnuts in the shell, of cinnamon rolls full of brown sugar and raisins, of licorice lollies and of cocoa made by their dad.
Often it's the carbs that people remember — sausage with mashed potato, waffles soaked in both butter and maple syrup, fresh bread smeared with peanut butter and honey, rice cooked in the Persian way with butter on the bottom ending up in a crust, rice cakes from street vendors, chips from the chip wagon full of salt and vinegar rather than ketchup.
The food writer most in tune with comfort food is Nigel Slater, who in his book Appetite (Random House, $60) uses language and pictures that really do make your mouth water and satisfy a deep hunger for the nourishment of the soul as well as the body. Consider his description of steak supper:
"There are meals that you fancy, or feel like. There are those you desire, or even crave. Then there are those, like a bloody chargrilled steak, that you simply lust after. And I do think lust is the appropriate word here. It would be the last meal, steak, béarnaise sauce, and frites (there simply have to be frites.) Few meals arouse quite such passion, or contention.. The point of the whole thing is when bloody meat meets velvety, piquant sauce meets long, crisp, salty fry meets savory juice on the same fork… a truly sensational plate of food."
(Apologies to my vegetarian readers — but Slater does include lots of non-meat dishes, and writes with similar longing for them.)
My own comfort food, somewhat in demand this month as we returned to Revelstoke after seven weeks' absence, turned out to be pasta. What I longed for was a big helping of a macaroni and chicken dish I make occasionally, adapted from an Italian recipe that replaces cheese sauce with white wine and broth, and includes the cheese, chicken and some veggies as add-ins. I made it for guests who arrived a few days after we came home.
This is lighter than most mac and cheese dishes, not gluey, and the chicken adds protein, making this a one-meal dish, perhaps with a lovely butter lettuce salad on the side. Vegetarians could make it without chicken and add more cheese and veggies. You could also do it with a béchamel type sauce (white sauce, thin) instead of the wine and broth, but I advise using the broth instead of milk so as to capture the chicken goodness flavour of the broth.
After our guests departed, I embarked on much delayed spring cleaning projects (everyone walking down Orton yesterday had a great view of our appalling garage). But I still wanted comfort food. With the work of tidying up after the winter (we missed April and May here) we needed meals that took zero cook time or energy as Pasta is fasta, and I adapted a great Moosewood recipe—in Simple Suppers for noodles with scallops and warm vinaigrette — a 10-minute deal of a meal.
Send me a note telling (see below) about your own most favorite comfort food — we'll publish the results and if you give me the recipe, everyone else can enjoy it too.
Mac'n Chicken
Everyone in our family loves this. One daughter and son-in-law, five years ago, devoured a whole pot of it, on a trip to Vancouver.
3-4 chicken breasts, thighs or half a chicken
2 cups elbow macaroni
1 onion, chopped
3 cloves garlic, minced
1 green, yellow or red pepper, chopped into  cm dice
1 jalapeño pepper, green part only, very finely minced
1 zucchini, chopped into 1 cm dice
2 stalks celery, finely chopped
3 tbsp olive oil
1 cup white wine
1 cup chicken broth from simmering the chicken
salt and pepper
1 tbsp tomato paste
1-2 cups diced cheese — cheddar, provolone, asiago, or goat, depending on preference and age of the diners — kids prefer mild cheddar, goat adds a sophistication mostly enjoyed by fans of goat cheese and none other
½ cup parmesan cheese, finely grated
1 cup panko crumbs
½ cup butter, cold, cut into little squares
Simmer the chicken in water to cover plus salt and pepper until the chicken is just cooked through — about 15 minutes for breasts or thighs, 30 minutes for a whole chicken. Remove from water and cool until you can remove skin and bones, if any. Cut into bite sized pieces — about an inch square, but big enough so that you will be able to detect them in the macaroni.
Cook the macaroni al dente — better a little underdone as it will cook more in the oven.
In a high wide sauté pan, heat the olive oil and add the onion, garlic, peppers, and celery. When these are just beginning to brown a little, add the white wine, the broth from the chicken, tomato paste and salt and pepper.
Using a large casserole dish, preferably a wide, long one about three inches high, mix the macaroni and chicken sauce together. Stir in the cubed cheese.
In a small bowl, mix the Panko crumbs and grated parmesan and spread on top of the mac and chicken. Dot with the butter and bake at 350 for about 40 minutes or until the top is browned and the sauce is bubbling.
This dish can take a really good white wine — the same used in the cooking, preferably a Pinot Grigio or a Sauvignon Blanc. A rosé or a sparkling wine, say a dry Proseco, would also suit. Don't btw, think of using cheap "cooking" wine—get reasonable wine, and use what you drink in your cooking.
Scallops and Noodles in warm vinaigrette sauce– no meat non-dairy pasta
Buy scallops if possible without trisodium phosphate preservative — look at the ingredients on the back of the package and try to find ones that say Contains Sea Scallops. Nothing else. You could also use shrimp.
For noodles, you can use any on hand, but thinnish twisty egg noodles are a very nice complement to the scallops, both in colour and flavour. Spirals would soak up the sauce nicely too. Asparagus or fresh green beans would be a great addition to this, but we had broccoli.
Vegans could do this with roasted diced butternut squash and chopped hazelnuts instead of seafood.
1 pound scallops, large or small
½ pound pasta
3 garlic chives (these look like green onions but larger, and have an unequalled flavour punch) or 6 green onions. The garlic chives are now available from Wild Flight at the Saturday market.
½ cup plus 3 tbsp olive oil
2 tbsp Maletti balsamic vinegar
Put the pasta water on to boil. Cook the pasta, and while it's cooking, make a simple salad and prepare the scallops as follows.
Slice the garlic chives thinly, using as much of the green stem as seems possible, and sauté these in the olive oil. Do this slowly, so they get a little brown on the edges and very soft. Add the scallops and turn up the heat so they sear quickly, rather than simmer — this will take about 2 minutes only. If using shrimp, cook 1 minute. They will continue cooking when you mix in the pasta. Do not overcook. Remove from heat and place in a small bowl.
Heat the half cup of olive oil in a small saucepan just below boiling (small bubbles appear along the edges and you then turn the heat way down) then add the vinegar and stir. Keep over low heat.
When the pasta is done and your veggie or salad is ready (I cooked broccoli as we had some that needed using up), drain the pasta well, shower it with cold water in the colander, and return it to the pot along with the scallops. Add the hot vinaigrette sauce. Serve with good quality sea salt to taste and freshly ground pepper.
This is a very delicious, light pasta. Ciobatta rolls and a butter lettuce salad are nice. For a real treat, cook some asparagus too.
A fine dish to serve with beer or iced tea, made without sugar, or a Shandy — mixture of beer and gingerale. For wine, an off-dry will avoid fighting with the vinaigrette sauce — try a Proseco or even a Chardonnay.